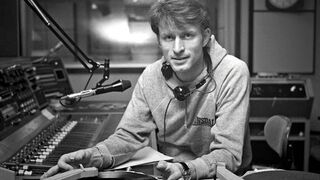 Charlie Gillett
(/ˈɡɪlᵻt/; 20 February 1942 – 17 March 2010) was a British radio presenter, musicologist and writer, mainly on rock and roll and other forms of popular music. He was particularly noted for his influential book The Sound of the City, for his promotion of many forms of "world music", and for discovering and promoting such acts as
Dire Straits
and Ian Dury.
.....As a teenager he developed a love of music as well as sport, before going to Peterhouse, Cambridge, to take a degree in economics. In 1965, after graduating and marrying, he went to Columbia University in New York to study for a Master's degree, taking as his thesis — unconventionally for the time — the history of rock and roll music[....] His 1970 book, The Sound of the City: The Rise of Rock and Roll, developed from his Master's thesis, was a seminal history of popular music. It received excellent reviews in both Time magazine and The New York Times and enabled Gillett to further his music journalism career and to write a second book, Making Tracks. He wrote for a variety of music magazines including Rolling Stone, Let It Rock, New Musical Express and contributed to The Observer. (Read more at Wikipedia.)
Links to Peel
As a critic and broadcaster, Charlie Gillett became influential in the 1970s by challenging the dominance of progressive music, as promoted by Melody Maker, Sounds and the BBC's Sounds Of The Seventies programmes. He preferred singles to LPs and insisted that pre-Beatles pop should be taken seriously, playing the music he preferred on his show on BBC Radio London, Honky Tonk, which ran from 1972 to 1978 and developed a keen following. It isn't known whether Peel was one of his listeners, but he certainly shared Gillett's liking for late 1950s and early 1960s rock, pop and R&B, as can be seen from his playlists of the 1970s - a taste which was seldom shared by his SOTS colleagues (with the exception of Bob Harris). Gillett was even offered the chance to host the Old Grey Whistle Test, but turned it down because "I was going to have to be talking to people like Yes, and Emerson, Lake & Palmer or whatever, and really I couldn't imagine what I would say to them". [1]. Nor was he impressed by Peel's favourite artist, writing in Cream magazine in 1971:
Inside Captain Beefheart is a corny old ballad-singing crooner, aching to sing those same old songs of sorrow and devotion. But he knows that kind of stuff doesn't have any effect any more....[2]
Despite this, Peel enthusiastically recommended Gillett's book The Sound Of The City to Disc & Music Echo readers in November 1971:
"If you're in any way interested in where all this good music around our heads came from then read Charlie's book and you'll find much out. It only costs 60p and must be an essential part of your education - much more valuable than trigonometry and silliness like that."[3]
Charlie Gillett also ran Oval Records, whose releases Peel played, and gave airtime on his shows to artists who would later become regulars in Peel's playlists, including Graham Parker, Elvis Costello and Ian Dury. He was also a pioneer of World Music and was among the group who coined the genre's name in 1987.
Peel admired Gillett, as he recounted on the show of 19 August 2003, after meeting his colleague at the Big Chill Festival:
"I was very pleased because I got to meet up - which I far too rarely do - with Charlie Gillett, who is a man I admire enormously. Envy, actually, I have to say, because we've grown old together and Charlie looks kind of craggy but he looks great. He's got a mass of silver hair he just looks like he used to when he was in his twenties but older. Whereas I look like a pudding. So I look at him and think why couldn't that have happened to me?"
In 2006, Charlie Gillett was awarded the John Peel Award for Outstanding Contribution to Music Radio by the Radio Academy.
Shows Played
This is a list of tracks on Oval Records played on Peel's shows.
1970s
(First track of the night is from a sampler on Charlie Gillett's record label. Peel plugs Gillett's appearance on Roundtable that Friday)
(JP: "If they're not very careful you know, Oval Records are going to have a hit one of these days.")
1980s
Also
External Links
Community content is available under
CC-BY-SA
unless otherwise noted.