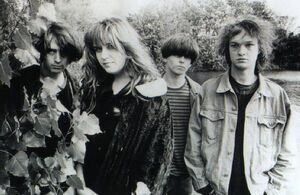 The Charlottes were an English indie band formed in Huntingdon, Cambridgeshire in 1988 after drummer Simon Scott met Guitarist Graham Garduilo in local band The Giant Polar Bears. They were tour buddies to Ride and most of the late 1980s shoegaze bands. Simon Scott was stolen by Slowdive after a gig at the White Horse in Hampstead in 1990, where the Boo Radleys opened the three-band bill. They split after releasing two albums and released a Best Of... by Cherry Red. The NME gave their debut album Lovehappy 9 out of 10. Simon now plays with his own band Televise. Graham and singer Petra Roddis are teachers in London.
Links to Peel
Peel was extremely impressed by "Lovehappy". On his 03 September 1989 (BBC Radio East Anglia) show he overcame his dislike of interviewing, and broadcast a discussion with members Graham and Simon. On the 21st of that month, The Charlottes recorded four songs for a Peel Session, which was broadcast on 18 October 1989. BBC producer Dale Griffin thought the guitar tracks too loud but the band disagreed. On returning to Cambridgeshire, the band had second thoughts, but when they phoned it was too late to change. Peel felt after hearing the session that it wasn't too bad. In 1991, the band released their second album, but by that time, he had moved on to other musicians that he was interested in.
Sessions
1. Recorded: 1989-09-21. Broadcast: 18 October 1989
Where You're Hiding / See Me Feel / Could There Ever Be / Venus
Other Shows Played
1989
1990
External Links
Community content is available under
CC-BY-SA
unless otherwise noted.