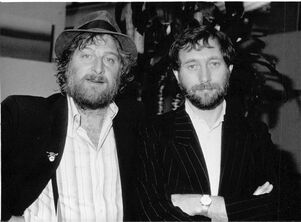 Chas & Dave (often billed as Chas 'n' Dave) were an English pop rock duo, formed in London by Chas Hodges and Dave Peacock. They were most notable as creators and performers of a musical style labelled rockney (a portmanteau of rock and cockney), which mixes "pub singalong, music-hall humour, boogie-woogie piano and pre-Beatles rock 'n' roll". For a time, Rockney was also the name of their record label, and they achieved several British chart hits, their major breakthrough being "Gertcha" in 1979, which peaked at No. 20 in the UK Singles Chart, and was the first of eight Top 40 hit singles the duo played on. They also had nine charting albums. In October 2013 they released That's What Happens, their first studio album in 18 years and in September 2018, Chas Hodges died following treatment for cancer.
Links to Peel
According to the Chas & Dave official website, their 1975 debut album 'One Fing 'n' Anuvver' earned critical acclaim from John Peel. [1] Although there are very few tracklistings from 1975 on the Peel wiki site, it seems he may have played some tracks from the album, but there is no evidence that he played later materials from the duo on his radio shows. However, Chas did play in bands before Chas & Dave, that Peel played on his programmes, including Heads Hands And Feet, who did a session for his show in 1972.
Shows Played
Top Of The Pops
Other TV
External Links
Community content is available under
CC-BY-SA
unless otherwise noted.