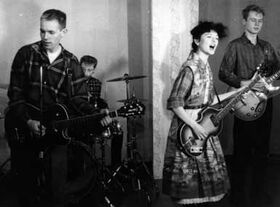 The Chefs were a late Seventies / early Eighties band from Brighton, fronted by Helen McCory (aka Helen McCookerybook). Some cite the band as inventing what became known as the 'C86' indiepop sound.
Career Outline
After releasing two singles on the independent Attrix label they signed to Graduate Records, then home of UB40.
In early 1982 the group changed their name to Skat and recorded another Peel session under that name before splitting in mid-1982 following the release of a single on Graduate Records, a cover of the Velvet Underground's 'Femme Fatale'.
Helen McCookerybook later formed Helen And The Horns and recorded a further three sessions for the Peel show in 1983-84.
Links to Peel
The Chefs first came to Peel's attention with the track 'Food' that was released on the Attrix LP 'Vaultage 79', a compilation of Brighton bands.
The first session the group recorded for the show was a favourite with Peel and the listeners, being broadcast a total of seven times.
Festive Fifty Entries
Sessions
Two sessions, both released in 2012 on the 'Records And Tea: The Best of The Chefs' (Damaged Goods).
1. Recorded: 1981-05-05. First broadcast: 11 May 1981. Repeated 17 June 1981, 03 August 1981, 26 August 1981, 26 November 1981, 09 December 1981, 19 July 1983.
One Fine Day / I'll Go Too / Love Is Such A Splendid Thing / Northbound Train / Springtime Reggae
2. As 'Skat'. Recorded: 1982-03-08. First broadcast: 10 March 1982. Repeated 12 April 1982.
Honcho / Sleeping Dogs Lie / Sad Boy Style / Just A Word
Other Shows Played
(The list below was compiled only from the database of this site and may be incomplete. Please add further information if known.)
1980
"Mine's bigger than yours. Those are the Chefs and that's called Boasting from their EP on Attrix Records from Brighton and Robin Miller in Sounds has a bit of a dig at me for liking the EP because there's a track on it about the popular disease thrush. I'll remember you Robbie."
1981
1982
1983
1984
External Links
Community content is available under
CC-BY-SA
unless otherwise noted.