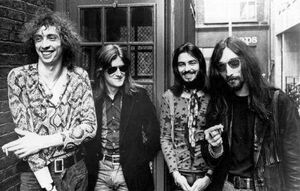 Chicken Shack are a British blues band, founded in 1965 by Stan Webb (guitar and vocals), Andy Silvester (bass guitar), and Alan Morley (drums), who were later joined by Christine Perfect (McVie) (vocals and keyboards) in 1968. Chicken Shack has performed with various line-ups, Stan Webb being the only constant member. Chicken Shack named themselves after Jimmy Smith's Back at the Chicken Shack album. 'Chicken shacks' (open-air roadside chicken stands) had also been frequently mentioned in blues and R&B songs, as in Amos Milburn's hit, "Chicken Shack Boogie".
Links To Peel
Chicken Shack were a favourite of Peel's in the late 60's and early 70's. They recorded for Mike Vernon's Blue Horizon Records, the label which recorded many of the leading figures of the British blues boom, including Peel favourites like Peter Green's Fleetwood Mac and Duster Bennett. In his International Times column he defended the band after they had been damned with faint praise in the paper's early 1968 "Pop Supplement": "I think the Chicken Shack deserve better than 'Competent club blues group'. I saw them play in Leeds recently and was most impressed."[1]
He invited the band to do four sessions for his show and they also appeared on How It Is, a youth oriented TV programme in the 60's, which Peel presented. The group performed at numerous music festivals between the 60's and 70's, which Peel visited. Lead guitarist and singer Stan Webb also did an impression of Peel's voice on the band's "O.K. Ken?" album before the "Remington Ride" track in which he said:
"This is the number by the Chicken Shack, the last one by Freddy King, and he's really good, and he's a very big person and it's called Remington Ride"
However, on the 16 February 1969 show Peel played a track from the "O.K. Ken?" LP, remarking that the music was good but that the comic voices between the tracks became tiresome after a while. Nevertheless, he continued to play their material, including their best-known track, the single "I'd Rather Go Blind", which made the UK charts. After the band initially split in 1973, Peel rarely played any of their material.
Sessions
1. Recorded: 1968-01-09. Broadcast: 28 January 1968
Lonesome Whistle Blues / It's OK With Me Baby / The Letter / When The Train Comes Home / San-Ho-Zay
2. Recorded: 1968-04-17. Broadcast: 28 April 1968. Repeated: 16 June 1968
See My Baby / Waiting On You / Love Me Or Leave Me / You Done Lost Your Good Thing Now
3. Recorded: 1968-09-04. Broadcast: 08 September 1968. Repeated: 10 November 1968
Everyday I Have The Blues / Night Life / Side Tracked / Mean Old World / It Takes A Woman To Make A Man Cry
4. Recorded: 1969-06-17. Broadcast: 22 June 1969. Repeated: 24 August 1969
Midnight Hour / Look Ma I'm Crying / Things You Put Me Through
Live
Recorded at the Paris Theatre. Broadcast: 11 January 1970
Tell Me 
My Mood 
Telling Your Fortune 
Tired Eyes
It Will Be Me
Hey, Hey, Hey, Hey
Other Shows Played
1968
12 May 1968: San-Ho-Zay (LP - Forty Blue Fingers, Freshly Packed And Ready To Serve) Blue Horizon
26 May 1968: Lonesome Whistle Blues (LP - Forty Blue Fingers, Freshly Packed And Ready To Serve) Blue Horizon
22 December 1968: When The Train Comes Back (single) Blue Horizon
1969
1970
See Also
External Links
Community content is available under
CC-BY-SA
unless otherwise noted.