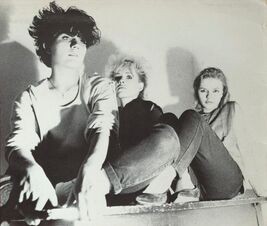 Chin-Chin were an all female Swiss indie band formed in 1982 in Biel, Switzerland by Karin (guitar/vocals), Esther (bass/vocals) and Marie-Anne (drums/vocals). Musically the band had many influences: The Clash, The Ramones, X-Ray Spex, Blondie, Generation X, Siouxsie & The Banshees, David Bowie, Motown, 1960s girl groups and glam rock bands like T-Rex and Slade. The group became prominent during the C86 indie scene in the mid-80's, but split sometime in the late 80's.
Links To Peel
Peel heard the group through the Farmer record label, who were based in Switzerland. The band's music got some airplay on his show in the mid-80's, but after the decline of the C-86 indie scene, they rarely were played.
Shows Played
1986
1987
1988
External Links
Community content is available under
CC-BY-SA
unless otherwise noted.