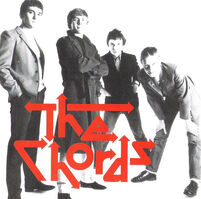 The Chords are a 1970s British power pop music group, commonly associated with the 1970s mod revival, who had several hits in their homeland, before the decline of the trend brought about their break-up. They were one of the more successful groups to emerge during the revival, and they re-formed with the four original members for a UK tour during 2010.
The Chords, a South East London group, formed in 1978 when singer/guitarist Billy Hassett and his bassist cousin, Martin Mason, advertised for musicians in the NME and found guitarist and songwriter, Chris Pope. Original drummer Paul Halpin did not stay long, at least behind his drum kit, and eventually became the group's tour manager. In his place came Brett "Buddy" Ascott, and by March 1979 The Chords were taking the stage. They gigged continuously over the spring and summer, headlining two mod festivals at London's Marquee Club.] They also featured, along with some of their fans, on the cover of Time Out magazine. Amongst their early supporters were Paul Weller of The Jam, who saw one of their first concerts, and Sham 69's Jimmy Pursey, who signed the group to his JP Productions company.
(read more on Wikipedia)
Links to Peel
Peel was an avid supporter of the group in the late 70's and early 80's during the mod revival, inviting the band to do 2 sessions for his shows in which they did.
In an interview with the band's website, bassist Martin Mason was asked whether he met the DJ, and answered that he never met him, but did know that JP was playing the group's records. [1]
Sessions
All sessions are available on At The BBC (2001 /CD / Detour)
1. Recorded: 1979-07-03. First Broadcast: 09 July 1979. Repeated: 18 July 1979, 07 August 1979, 26 December 1979
Now It's Gone / It's No Use / Something's Missing / Maybe Tomorrow
2. Recorded: 1980-03-11. First Broadcast: 24 March 1980. Repeated: 09 April 1980, 19 May 1980, 24 June 1980
Tumbling Down / Happy Families / Far Away
Other Shows Played
1979
1980
1981
1982
1992
2001
2004
External Links
Community content is available under
CC-BY-SA
unless otherwise noted.