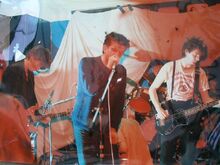 Claire were a British indie band from Milton Keynes between 1983 and 1989, consisting originally of Ian Wilson, Peter Devine, Ian Williams and Andy Williams. According to singer Ian Wilson, the band's name may have been called Claire, because of his fondness for Clare Grogan, the singer of Altered Images.[1]
In 2014, the band reformed with the release of their long awaited 8 track LP Maxi Power Bulge, and then later disbanded with some members (Ian Wilson and Peter Devine) forming a band called Exploding Ear Ensemble.
Links to Peel
According to Ian Wilson's Twitter channel (Exploding Ear Ensemble), he sent a demo of the band's material to Peel in 1987 and was impressed by JP ringing him in 10 days time to book the group a session for his programme. After the session, the band had some interest from Slaughterhouse records to sign them on, but after advise from a lawyer, the group decided not to sign them. [2] The group never released any records except in 2014 when they reformed briefly.
Sessions
1. Recorded: 1987-07-14. Broadcast: 22 July 1987. Repeated: 10 August 1987
Who Haunted Mrs. Robbins? / Wife Lover Killer / Passion For Pamela / Filled With Fear
Other Shows Played
External Links