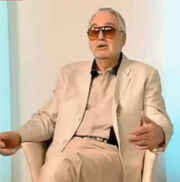 Clive Sidney Selwood (1935-2020) was an agent, promoter, record executive and label boss. At various points during the 1960s and 1970s he held directorships at Elektra, UK Records, CBS and Pye.
Links To Peel
Selwood met and became friends with John Peel while promoting Elektra Records in 1967, because Peel, at the time working for the offshore pirate radio station Radio London, was the only DJ in Europe playing the records Elektra had released in the UK. This encouraged Selwood to send the label's new releases to Peel, who would play them on his Perfumed Garden programme - in a piece in Gandalf's Garden magazine, recalling his life as a pirate DJ, among Peel's recollections is that "Clive sent me the new Doors single".[1]). Later, Elektra label founder Jac Holzman paid tribute to him:
"Clive Selwood was a grand Elektra personality. He understood me and was close to the highly respected John Peel, who had an abiding affection for Elektra. Clive not only had taste, but he would run stuff by Peel, and Peel had unerring taste": [2]
Selwood became Peel's agent, assisting him after the closedown of Radio London and being namechecked in Peel's International Times columns - Peel quotes him as describing himself as "the round peg in the square suit" [1] and in another column Peel is listening to newly-acquired John Fahey LPs "on Clive Selwood's elderly gramophone" [2], the DJ being too hard-up to afford a record-player of his own. Selwood also helped Peel get his contract on the new BBC Radio One and is thanked by Peel on the first Top Gear, co-hosted with Pete Drummond (also managed by Selwood). Peel dedicates Traffic's "Paper Sun" to "Clive, who is sitting out there somewhere listening, without whom neither Peter nor myself would be here.".
He also aided Peel by encouraging the journalism, live appearances and, later, advertising and TV voiceover work, which enabled the DJ to broaden his career options and to achieve financial security by supplementing his modest BBC salary. Peel and Selwood formed the ill-fated Dandelion Records in 1969, for which Selwood worked out the financing and distribution; he also negotiated a licensing agreement for some Dandelion albums to be released on Elektra in the U.S, However the label only lasted three years, until 1972.  In its later period Dandelion, like Elektra, Warner/Reprise and Atlantic - all of them labels which Peel admired - for a time came under the control of the US corporation Kinney,, and Selwood became European manager of the group. A 1971 article in Melody Maker described its London office as "the flashy, friendly home of hip"[3] but within a few years Selwood had moved on to more commercial music business projects, like Jonathan King's UK Records.
Later, in 1986, Clive Selwood formed the hugely successful Strange Fruit label, which he ran until it closed down in 2004. His memoirs, All the Moves (But None of the Licks) document his four decades in the music business and contain plenty of material on his long association with John Peel, as both manager and friend. Peel contributed a foreword to the book.
See Also
References
↑ Reprinted in Margrave Of The Marshes, p.243.
↑ Quoted in Mick Houghton, Becoming Elektra; The True Story of Jac Holzman's Visionary Record Label, London 2010, p.266.
External Links