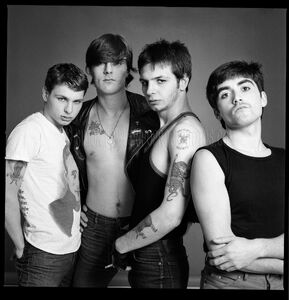 Cockney Rejects were a punk band formed in the East End of London in 1978 by brothers Jeff and Micky Geggus, with their brother-in-law Chris Murrell on bass and Paul Harvey on drums. Their first demo, "Flares 'n' Slippers", caught the attention of Small Wonder Records owner Pete Stennett, who introduced the band to Bob Sergeant. With Sergeant, they recorded their single "Flares 'n' Slippers", which sold out its first pressing. Murrell and Harvey were then replaced by Vince Riordan on bass and Andy Scott on drums, from fellow East End London band, The Tickets. This became known as Cockney Rejects' classic lineup, and its debut at the Bridge House in Canning Town in June 1979 is considered a turning point for the band. In September of that same year, the band signed with EMI and released their album Greatest Hits, Vol. 1 in February 1980.
Their biggest hit single in the United Kingdom, 1980's "The Greatest Cockney Rip-Off", was a parody of Sham 69's song "Hersham Boys". Other Cockney Rejects songs were less commercial, partly because they tended to be about hard-edged topics such as street fighting or football hooliganism. Other singles to appear in the UK were "Bad Man," "We Can Do Anything," "I'm Forever Blowing Bubbles " and "We Are the Firm" — all from 1980.
The violence depicted in their lyrics was often mirrored at their concerts, and the band members often fought to defend themselves (often from supporters of opposing football teams) or to split up conflicts between audience members. Jeff and Mick Geggus (who are brothers) had both been amateur youth boxers, and had fought at the national level. Bass player Vince Riordan's uncle was Jack "The Hat" McVitie, a Cockney gangster who was murdered by Reggie Kray.
Cockney Rejects expressed contempt for all politicians in their lyrics, and they rejected media claims that they had a British Movement following, or that the band members supported the views of that far right group. In their first Sounds interview, they mockingly referred to the British Movement as the "German Movement" and stated that many of their heroes were black boxers.
Links to Peel



Interviewer: John Peel was someone else who saw what you were doing and gave you a lot of support from early on…
Jeff Geggus: Yeah, he was another one, top man.
Mick Geggus : We've got nothing but respect and praise for him. And he's another one that some people have tried to unfairly vilify, post mortem.
JG: I mean, just how many bands did he dare to give a break to ? You can go all the way back to bands like Free or Wishbone Ash… He was the man to champion all of it.
MG: He had such an eclectic taste.
JG: I'll never forget when we got a message from Pete, and he said, 'Peel's got the single, he loves it and he'll be playing it tonight…' So, I remember sitting in my Mums' bedroom and having a little cassette recorder ready. He came on at 10.00 and the first thing he said was, 'We're going to start tonight with 'Flares'n'Slippers' by the Cockney Rejects…' For me that was fucking it! Can you imagine what it was like going to school the next morning ? That was fucking wondrous! [1]
Peel supported the band through their short career with repeated plays and two sessions, the second of which he thought so highly of that he programmed it five times in one year. Like Peel himself, the Rejects were banned from Top Of The Pops: their appearance on 22 May 1980 was followed by a rampage through Television Centre. [2].
The DJ and the band also both shared a love of football, with Liverpool fan Peel often passing wry comment on the mixed fortunes of West Ham, the London team backed vocally by the Rejects.[3] In 1980, the band enjoyed chart success with a typically rowdy version of Hammers' anthem "I'm Forever Blowing Bubbles", celebrating the club's run to the FA Cup final.[4] It appeared that the Rejects were just as popular with his listeners: "Every other request I get is for a Cockney Rejects record: getting fed up with it." [5]
In later years, another favoured JP band, Extreme Noise Terror, covered 'I'm Not A Fool' (retitled I Am A Bloody Fool) for their third session.
Festive Fifty Entries
Sessions
Two sessions. Available on Greatest Hits Vol. II, 2004 reissue (Captain Oi!) and Join The Rejects The Zonophone Years '79-'81 (EMI).
1. Recorded: 1979-08-08. First broadcast: 15 August 1979. Repeated: 10 September 1979, 20 December 1979
East End / Flares 'n' Slippers / Are You Ready To Ruck / They're Going To Put Me Away
2. Recorded: 1980-02-13. First broadcast: 25 February 1980. Repeated: 20 March 1980, 17 April 1980, 03 July 1980, 01 September 1980
The Greatest Cockney Rip-Off / I Wanna Be A Star / 15 Nights / Blockbuster
Other Shows Played
1979
1980
1981
External Links
Footnotes
↑

Peel's wry comment conceals the fact that the ensuing season was one of the club's best, as they not only won the Second Division, reached the League Cup for the second time, and the quarter-finals of the European Cup Winner's Cup. However, just before this show was recorded (09 August), they had lost to Liverpool in the Charity Shield, hence John's gloating.