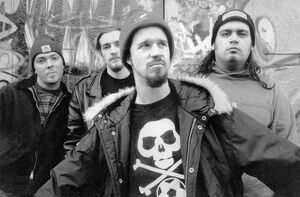 Collapsed Lung are a Harlow-based British alternative hip hop group formed in February 1992, originally formed as a bedroom studio collaboration between Anthony Chapman and Steve Harcourt. The pair had met at Harlow music venue The Square, and despite coming from contrasting musical backgrounds (Harcourt had previously played guitar in metal band Bomberz, whereas Chapman had previously played bass in pseudo-C86 outfit Pregnant Neck) found they had a shared love of funk and the Amiga tracker software Med/Octamed. Eventually, the duo decided to perform a live show, using an Amiga computer on stage as well as live guitar from Harcourt.
After their debut performance they were invited to play an all-day music festival in Harlow at which Harcourt first met Nihal Arthanayake, a school friend of Chapman. Nihal was a rapper of Sri Lankan descent who was studying law in Twickenham, Middlesex. He was consequently invited to record some of his raps over the trio's existing tracks. Chapman later took up co-rapping duties alongside Arthanayake, with the line-up completed by bass player Johnny Dawe (previously of Hull band Death By Milkfloat). However, Arthanayake left the band in 1994 after signing a deal for his own group Muddie Funksters with Go! Discs. Collapsed Lung replaced him with rapper Jim Burke and drummer Chris Gutch.(read more on wikipedia)
Links To Peel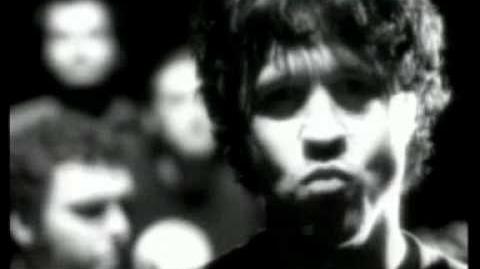 Peel played their early material in 1993, including seeing them perform in April of that year at the Powerhaus in Islington. The band did not achieve success until 'Eat My Goal' was released as a single during the Euro 96 football and later re-released during the World Cup football tournament in 1998. By that time, Peel was not playing any of their music. After the band disbanded, rapper Jim Burke, became a full time DJ, and later played at two of Peel's birthday parties and his wife's 50th birthday. Peel himself also played Jim Burke's own records under the Sgt. Rock stage name in 1999.
Shows Played
1993
1996
External Links