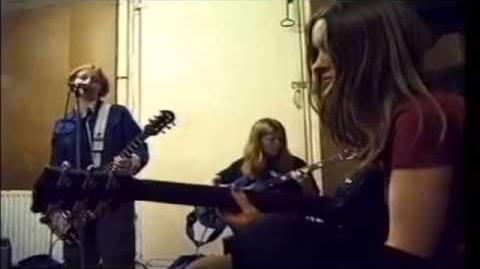 Comatose
were formed in January 1998 and hailed from Sunderland in north east England. The band consisted of Hazel Stuart (vocals, guitar, bass), Barbara Cunningham (guitar, bass and occasional backing vocals), and Debra (drums), who was replaced by Adam Sheriff and finally Lucy Hammond. The band were influenced by riot grrrl's acts such as the
Lunachicks
and
Hole
. The band split up sometime in 2001 and were never signed to a record label. However they did provide tracks for the
Sounds Of The Suburbs
 soundtrack and Sunderland football club fanzine.
Links to Peel
Peel visited the band at the Bunker youth centre in Sunderland, while he was filming for Sounds Of The Suburbs: The North East, which was filmed in 1998, but was broadcast on Channel 4 in 1999. After meeting Peel, the band were invited to come to Maida Vale in London to record a session. Following from that, they played gigs for Radio One's Sound City week, as well as one at The Garage in London's Highbury Corner to launch Sounds Of The Suburbs [1], but never really got label attention and ultimately called it a day.
Sessions
1. Recorded: 1998-08-16 Broadcast: 15 September 1998. Repeated: 11 February 1999
Football Fanatic / Drifting / Body Parts / Hopeless Dream
Other Shows Played
The information is from the database of this site and Lorcan's Tracklistings Archive and is incomplete. Please add further information if known.
1998
1999
External Links