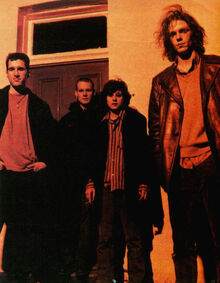 Come were formed in Boston in 1990 by Thalia Zedek (vocals, guitar) (ex Uzi, Live Skull), Chris Brokaw (guitar, vocals) (ex Codeine) Arthur Johnson (drums) (Bar-B-Q Killers,) and Sean O'Brien (bass) (Kilkenny Cats and Fashion Battery).
Come released the 12-inch single "Car" on Sub Pop in 1991. The song, a seven-minute epic in the blues-noir style of The Birthday Party and These Immortal Souls, encapsulated what was to become Come's trademark style: dark, intense and lengthy songs marked by Zedek's emotional and distressed vocals, abrupt rhythms, and the tension-filled guitar interplay between Zedek and Brokaw, both extraordinarily accomplished guitarists.
Festive Fifty Entries
Sessions
Two sessions. Any commercial release of sessions?
1. Recorded 1992-04-02. First Broadcast 18 April 1992. Repeat: 19 June 1992.
William / Off to One Side / Bell / Dead Molly
2. Recorded 1993-01-21. First broadcast 12 February 1993. Repeat: 28 May 1993, Best Of Peel Vol 57
Sharon Vs. Karen / Wong Side / Mercury Falls / City Of Fun
Other Shows Played
1992
External Links
Community content is available under
CC-BY-SA
unless otherwise noted.