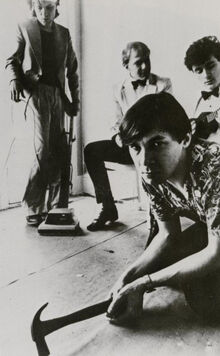 The Comsat Angels were an English post-punk band from Sheffield, England. Named after the J. G. Ballard short story "The Comsat Angels", the foursome's original lineup (lasting from 1978 to 1992) consisted of Stephen Fellows (vocals, guitar), Mik Glaisher (drums), Kevin Bacon (bass) and Andy Peake – (keyboards). Their music has been described as "abstract pop songs with spare instrumentation, many of which were bleak and filled with some form of heartache". They have been credited as being an influence on later post-punk revival bands such as Blacklist, Bell Hollow, Editors and Interpol.
Links to Peel
The Comsat Angels sent a copy of their debut EP, Red Planet, to Peel, who liked it and gave the band a session, which Polydor picked up and signed the group to their label. The group overall did 4 sessions for Peel's show and in an interview with Penny Black Music in 2006, singer Stephen Fellows praised Peel for helping the band sign to Polydor:
"These days you have singles on the album and singles that are played on the radio and that help sell records, but that kind of thinking wasn't really as prevalent then.. A band like us didn't generally get played anyway. If John Peel hadn't got hold of 'Red Planet'and given us a session, Polydor probably wouldn't have heard of us and signed us .Once they had done I don't think they knew exactly what they had. They left us to get on with it really. I don't recall any A and R input at all." [1]
Sessions
1. Recorded: 1979-10-10. Broadcast: 25 October 1979. Repeated: 22 November 1979, 19 December 1979
Total War Girl / Independence Day / Baby / Ju-Ju Money
2. Recorded: 1980-04-29. Broadcast: 08 May 1980. Repeated: 11 June 1980, 15 July 1980, 02 September 1980, 01 January 1981
Real Story / Monkey Pilot / Waiting For A Miracle / Home Is The Range
3. Recorded: 1981-02-03. Broadcast: 09 February 1981
Be Brave / At Sea / Eye Of The Lens / Dark Parade
4. Recorded: 1981-09-28. Broadcast: 07 October 1981. Repeated: 29 October 1981
Now I Know / Ju-Ju Money / Our Secret / Goat Of The West
Other Shows Played
1980
1981
1982
1983
1984
1985
1990
1997
2000
External Links
Community content is available under
CC-BY-SA
unless otherwise noted.