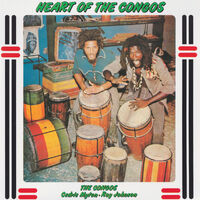 The Congos are a reggae vocal group from Jamaica which formed as the duo "Ashanti" Roy Johnson (aka Congo Ashanti Roy) (tenor) (b. Roydel Johnson, 1947, Hanover, Jamaica) and Cedric Myton (falsetto) (b. 1947, Saint Catherine Parish, Jamaica), later becoming a trio with the addition of Watty Burnett (baritone) (b. early 1950s, Port Antonio, Jamaica), and have been active on and off from the mid-1970s until the present day. They are best known for their "Heart of the Congos" album, recorded with Lee "Scratch" Perry.
(Read more at Wikipedia.)
Links to Peel
Huge reggae fan John Peel played the Congos regularly from the late 1970s until the early 2000s, almost exclusively featuring tracks from their celebrated 1977 LP "Heart Of The Congos," recorded at the legendary Black Ark studio with Peel favourite Lee Perry. On his 03 February 1996 (BFBS) show, the DJ described the album as "one of the great LPs of all time."
Although Peel plays for other Congos recordings were limited, the DJ did give airtime to Congo Ashanti Roy after he left the group in the early 1980s, in collaborations with Prince Far I and the Singers & Players collective of UK dub producer Adrian Sherwood.
Festive Fifty Entries
Sessions
Other Shows Played
(includes dub versions of Congos tracks)
1970s
1980s
1990s
2000s
Ashantie Roy / Congo Ashanti Roy
See Also
External Links