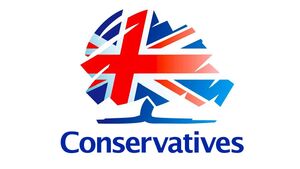 The Conservative Party, officially the Conservative and Unionist Party and also known colloquially as the Tories or simply the Conservatives, is a centre-right political party in the United Kingdom. The governing party since 2010, it holds an overall majority in the House of Commons with 365 Members of Parliament. It also has 245 members of the House of Lords, 8 members of the London Assembly, 31 members of the Scottish Parliament, 11 members of the Welsh Assembly and 7,430 local councillors.
The Conservative Party was founded in 1834 from the Tory Party—the Conservatives' colloquial name is Tories—and was one of two dominant political parties in the 19th century, along with the Liberal Party. Under Benjamin Disraeli, it played a preeminent role in politics at the height of the British Empire. In 1912, the Liberal Unionist Party merged with the party to form the Conservative and Unionist Party. In the 1920s, the Labour Party surpassed the Liberals as the Conservatives' main rivals. Conservative Prime Ministers, most notably Winston Churchill and Margaret Thatcher, led governments for 57 years of the 20th century.
Links to Peel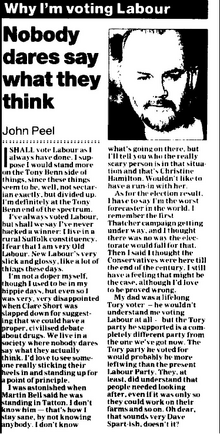 Peel as a traditional Labour supporter was critical of especially Conservative Prime Minister Margaret Thatcher. In 1997, Peel wrote a piece in the Guardian, published on 16th April, about his support of the Labour Party as well as his father's support of the Conservative Party and how he wouldn't understand why his son supported Labour:
"My dad was a lifelong Tory voter - he wouldn't understand me voting Labour at all but the Tory party he supported is a completely different party from the one we've got now. The Tory party he voted for would probably be more left wing than the present Labour Party. They at least did understand that people needed looking after, even if it was only so they could work on their farms and so on."
Interestingly during Peel's time, there was a Conservative MP named Sir John Peel, who served as Member of Parliament for Leicester South East from 1957 to 1974. He also died in the same year as John Peel.
In 1977, Peel was linked to a Conservative Party MP when Robin Hodgson, an MP for Walsall wrote a letter to Peel asking for an explanation of him using violence against some students at a roadshow in Norwich, which Peel denied using. Peel commented on the incident in Sounds music paper (later republished in Olivetti Chronicles, Corgi edition, page 121).
See Also
External Links
Community content is available under
CC-BY-SA
unless otherwise noted.