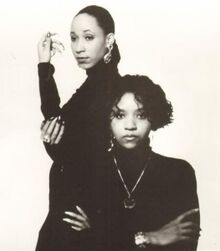 Cookie Crew were an all female British hip hop music duo consisting of Debbie Pryce (MC Remedee) and Susie Banfield (Suzy Q) from Clapham, South London between 1983 and 1992. Their career took off after winning a national rap championship and recording two sessions for the John Peel BBC Radio 1 show. They gained a recording contract from the UK dance record label Rhythm King and were put in the studio with the production trio Beatmasters, who put them in a house music direction.
Links To Peel
In Ken Garner's The Peel Sessions: A Story Of Teenage Dreams book, Debbie Pryce described how they were discovered by Peel and his producer John Walters, which led them to doing a session for Peel's programme:
"We'd recently won the Rap Championship for the Best Rap group of 1985 at the Wag Club, and were doing a series of shows at the big rap festival Rap Attack at the Shaw Theatre, where we think John Peel and John Walters first saw us. We'd probably only done about four shows, and the session was our first time in any studio that had so much equipment. We'd didn't have a clue. What was an engineer? We took in instrumentals and other people's rap records, had a well written and rehearsed rap, and sung over the instrumentals... I will always remember John Peel saying he hoped that one day we'd be making records of our own."
A few years later, the group later found success with the Beatmasters on the track 'Rok Da House', which reached number 49 in the 1987 Festive Fifty and a UK top ten hit single in February 1988.
Festive Fifty Entries
Sessions
1. Recorded: 1985-04-28. Broadcast: 08 May 1985. Repeated: 03 June 1985, 25 December 1985, 28 October 1986, 02 February 1988
B The Place To Be / The Cut Master Swift Rap / It's Gotta Be Fresh
2. Recorded: 1985-09-10. Broadcast: 23 September 1985. Repeated: 08 October 1985, 02 February 1988
Party People / On The Beat / All You People / Radio One Tribute / Sipho
Other Shows Played
1988
1991
External Links
Community content is available under
CC-BY-SA
unless otherwise noted.