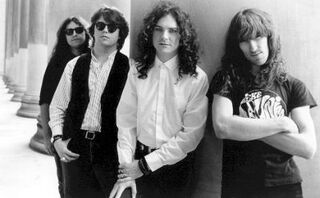 The Count Bishops were a British rock band which formed in London in 1975 and broke up in 1980. Their name came from a New York street gang and was given to them by their original lead singer, Mike Spenser (of the Cannibals). He had been in a short-lived group called Chrome with guitarist Zenon DeFleur and left before their BBC sessions: he was replaced by Dave Tice.
The Count Bishops had limited commercial success, but forged an important stylistic and chronological link between the root rhythm and blues band Dr. Feelgood and the proto punk sound of Eddie And The Hot Rods, together forming the foundation of the pub-rock scene, which influenced the emergence of punk rock. The group made history in England by releasing the first record on independent label Chiswick Records. They splintered following the death of DeFleur on 18 March 1979....(Read more)
Links to Peel
The Bishops recorded two sessions a year apart for Peel's show. The second one featured a cover of the Strangeloves' I Want Candy which had already been recorded by Chrome and the single release of which earned them a Top Of The Pops appearance in 1978. Peel played their releases, including tracks from Good Gear, but did not revisit their material in later years.
Festive Fifty Entries
Sessions
Two sessions, neither commercially released.
1. Recorded: 1976-05-04. First broadcast: 17 May 1976. Repeated: 02 July 1976
Takin' It Easy / Confessin' The Blues / Wang Dang Doodle / Dust The Blues
2. Recorded: 1977-07-20. First broadcast: 27 July 1977. Repeated: 23 August 1977
Till The End Of The Day / Don't Start Me Talking / Hands On The Wheel / I Want Candy
Other Shows Played
External Links
Community content is available under
CC-BY-SA
unless otherwise noted.