(This page is about the American singer. For the American band of the same name, see Courtney Love(2)).
'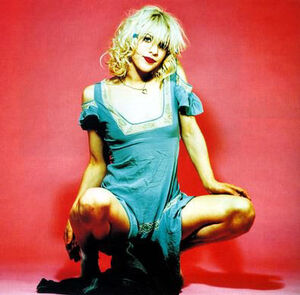 '
Courtney Michelle Love
(born Courtney Michelle Harrison, July 9, 1964) is an American singer-songwriter, musician, actress, and artist. The daughter of psychotherapist Linda Carroll and writer and ex-Grateful Dead manager Hank Harrison, Love began her career as an actress in her early twenties, landing roles in Alex Cox's cult films
Sid and Nancy
(1986) and
Straight to Hell
(1987), and later rose to bass player in
Babes In Toyland
and international prominence as frontwoman of alternative rock band
Hole
, which she formed in 1989. Her uninhibited stage presence and confrontational lyrics, combined with publicity surrounding her 1992 marriage to
Kurt Cobain
 of
Nirvana
, made her a noticeable and controversial figure in the alternative music scene of the 1990s.
Love received critical adulation for Hole's 1991 hardcore punk-influenced debut album, and the band's second release, Live Through This (1994), went certified platinum and received wide critical acclaim. Love returned to film in 1995, and received critical recognition for her performance in Miloš Forman's The People vs. Larry Flynt, which earned her a Golden Globe Nomination. Following this, Hole's third release, Celebrity Skin (1998), was nominated for three Grammy awards before the band went dormant in 2000. Love continued to occasionally act in films, including roles in Man on the Moon (1999), and Trapped (2002), before releasing a solo album, America's Sweetheart (2004), which met with mostly positive reviews but underwhelming sales. Love re-formed Hole in 2009 with new members, and released the album Nobody's Daughter (2010), which met mixed-positive reviews. In April 2014, Love confirmed that she had been rehearsing new material with Hole's founding lead guitarist Eric Erlandson, as well as former bandmates Melissa Auf der Maur and Patty Schemel, and that a reunion of the band was being planned.
Links To Peel
Peel was very much a fan of Hole and their work in the 90's. After Courtney's husband Kurt committed suicide, she gave an exclusive to Peel on August 1994, forwarding a cassette tape copy of the studio version of "Closing Time", which was a collaboration with Kurt Cobain and fellow Hole member, Patty Scheme. The tape was broadcast on his 26 August 1994 show on BBC Radio One. It is assumed that the radio broadcast version of the song was recorded and then distributed to various bootleggers, leading to the song's inclusion on the Nirvana bootleg series Outcesticide, however Blue Moon Records, the label on which the bootleg series was released, claimed that the recording was sourced from Love's own tape. Peel also played Courtney's solo single Mono in 2004, but didn't seem to play any other tracks from her debut album.
Other Shows Played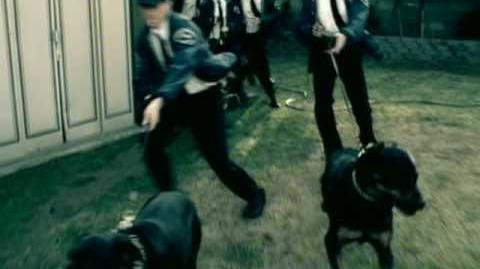 1994
26 August 1994: Closing Time (unreleased track, co-written with Kurt Cobain and Patty Schemel of Hole)
2004
External Links
Community content is available under
CC-BY-SA
unless otherwise noted.