(This page is about the punk band. For the Norwich band of the same name, see Crabs(2)).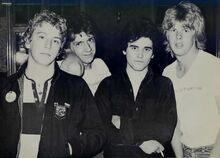 The Crabs were an early UK punk band that featured Ricci Titcombe, Rick Newson, Tony Diggines and Will Kimbling. The band never released a single or album under their own name and only contributed to various compilation albums, before changing themselves into the Fulham Furies, and releasing a single, before splitting up.
Links to Peel
The group did a session for Peel's show in 1978 and are not related to another group of the same name, who did a session for him in 1982.
Sessions
1. Recorded: 1978-04-26. Broadcast: 03 May 1978
Victim / Under Pressure / Lullabys Lie / Don't Want Your Love
Other Shows Played
None according to available playlists
External Links