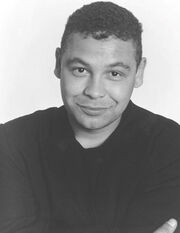 Craig Joseph Charles
(born 11 July 1964) is an English actor, comedian, author, poet, television presenter and radio and club DJ. He is best known for playing Dave Lister in the British science fiction sitcom Red Dwarf, and Lloyd Mullaney in the long-running soap opera Coronation Street.  Craig Charles first appeared on television as a performance poet, which led on to minor presenting roles. After finding fame in Red Dwarf, he regularly featured on national television, with celebrity appearances on many popular shows, while he continued to host a wide variety of programmes. He has toured the UK extensively as a stand-up comedian.
Links To Peel
Peel invited Craig Charles for two sessions on his show in 1983 and 1984. Craig Charles never released any records and the only airplay he would have got on Peel's show, was from his sessions or performances as a poet on stage. However when Craig performed in the sessions, he did have a band that played reggae/funk music, while he was performing his poetry. 
Sessions
1. Recorded: 1983-03-02. Broadcast: 17 March 1983. Repeated: 12 April 1983
Party Night / Family Way / Thought It Was / Music Scene / Oh To Be In England / In The City
2. Recorded: 1984-02-07. Broadcast: 14 February 1984. Repeated: 09 April 1984
Hands Together Eyes Closed / Adolf Hitler / What Can You Do
Other Shows Played
(The list below was compiled only from the database of this site. Please add more information if known.)
Currently there are no other performances of Craig Charles
External Links