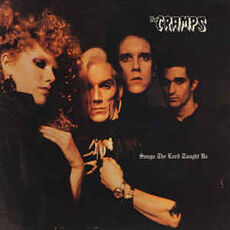 The Cramps were an American punk rock band, formed in 1976 and active until 2009. The band split after the death of lead singer Lux Interior. Their line-up rotated much over their existence, with the husband and wife duo of Interior and lead guitarist and occasional bass guitarist Poison Ivy the only permanent members. The addition of band members guitarist Bryan Gregory and drummer Pam Ballam comprised the first complete lineup in April 1976. They were part of the early CBGB punk rock movement that had emerged in New York. The Cramps are noted as influencing a number of musical styles: not only were they one of the first garage punk bands, they are also widely recognized as one of the prime innovators of psychobilly. (Read more at Wikipedia).
Links To Peel
As a fan of garage punk rock, Peel would often play bands from that genre including The Cramps.
Peel also played tracks from the "Born Bad" LP series of "songs the Cramps taught us" - tracks that had been covered, performed or were otherwise associated with the band.
Festive Fifty Entries
Sessions
One session. No known commercial release. Recorded: 1986-02-10, Ocean Way Recording Studios, Hollywood. First broadcast 10 February 1986. Repeated 11 June 1986.
What's Inside A Girl / Cornfed Dames / Give Me A Woman
Other Shows Played
(The list below was compiled only from the database of this website and Lorcan's Tracklistings Archive. Please add more information if known.)
1978
1979
1980
1981
1982
1983
1984
1985
1986
1988
1990
1999
2004
20 October 2004 (presented by Siouxsie Sioux): Garbage Man (single) (Big Beat)
Other
Peel Snubbed 1990: Jailhouse Rock (b-side of 7" Creature From The Black Leather Lagoon) Enigma
Tracks from "Born Bad" v/a compilation LP series
External Links
Community content is available under
CC-BY-SA
unless otherwise noted.