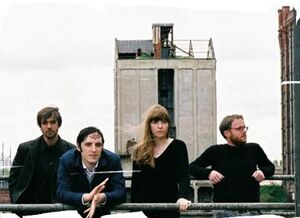 Cranebuilders were an English indie band formed in Liverpool in 2000 who took their name from the city's former Music Shop Bell & Crane Music, where guitar player Simon Reynolds and singer/guitarist Tommy Roberts used to work and where the band would rehearse before the shop went into receivership. The group originally consisted of Tommy Roberts on vocals and guitar, Simon Reynolds on guitar, Helen Turner on keyboards, Matt McPartin on bass and Steve Keast on drums. The band released several singles before releasing their only official album in 2005.
Links to Peel
The band's first EP got the attention of Peel whom invited them to London to record their first session for the BBC. The release of their following EPs led to the American only limited edition, release 8 Songs (Devil In The Woods) and a second Peel Session along with a personal invite to perform as the BBC Radio 1 representatives at the Eurosonic Festival in Groningen, Netherlands which was later broadcast on his show.
In the summer of 2002, Peel nominated their Bitch EP as one of the singles of the month, as well as their track, Against Your Wishes from the compilation album, A Charabang Trip To The Lights, for July 2002 (Peel's Record Box). He also nominated their track, You're Song, as one of the singles for November 2002 (Peel's Record Box) and December 2002 (Peel's Record Box).
In an 2003 interview with Penny Black Music website, singer Tommy Roberts claimed that the Music Shop Bell & Crane Music, which the band was named after, was the record shop Peel bought his first records. Later on in the interview, he was asked how his two Peel sessions went:
"The first one for me was a bit too tense. It was the first time we had been down there. I wanted it to be really enjoyable and it was good, but we had a different manager there and we knew that we were going to release it as the B sides of the first EP and I just wanted it to be a bit more relaxed. The second one was absolutely fantastic though." [1]
In 2005, a year after Peel's death, the band paid tribute to him on John Peel Day, by performing at Liverpool's live music venue, Las Vegas, which was hosting a special John Peel event.
Festive Fifty Entries
Sessions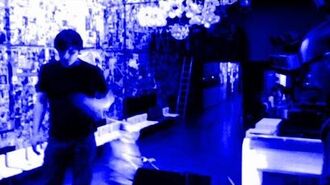 1. Recorded: 2002-08-04. Broadcast: 15 August 2002
You're Song / Morning Cup / Now I Hear You / Public Space
2. Recorded: 2003-06-12. Broadcast: 24 June 2003
Advance Direction / Fallen Arches / Layoutstretched / Something Familiar / Trains Across The Sea
Live
Recorded at Eurosonic Festival, Groningen: 2004-01-13. Broadcast: 13 January 2004
Casualty
You Can't Get At Her
Fallen Arches
Public Space
You're Song
New Captain
Just Idleness
Something Familiar
Advance Directive
No More
Other Shows Played
2002
2003
2004
External Links
Community content is available under
CC-BY-SA
unless otherwise noted.