(This page is about the Creation band. For the independent record label of the same name, see Creation Records.)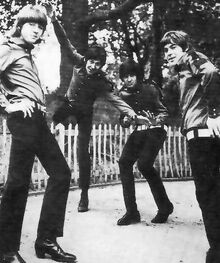 The Creation were an English rock band, formed in 1966. Most of the members of what would eventually become Creation were initially members of The Mark Four, a British beat group based in Cheshunt, Hertfordshire. Eddie Phillips, a member of the Creation was the first guitarist to use a violin bow with a guitar, a technique he experimented with while in his first band the Mark Four and he perfected the style with The Creation, committing the sound to vinyl in 1966. Although Phillips was the originator, Jimmy Page of Led Zeppelin later popularised the technique to a wider audience, leading many to erroneously believe that Page, and not Phillips, was the pioneer of the style. The band split in the late 60's, but reformed in the mid 80's with Eddie Phillips as the only original member.
Links To Peel
The band were a favourite of Peel in the 60's, whilst he was living in America. So much so, that he manipulated the KMEN British Pop Top Ten charts to fit in the group's singles "Painter Man" and "Making Time" in the listings. On his return to the UK, Peel no longer had these, as he had left his record collection behind; on the Perfumed Garden of 16 July 1967 he asks his listeners if they could supply him with copies, because the ones on the Radio London ship had been "given away by someone else". He saw The Creation perform at Alexandra Palace on 29th July 1967 at the "International Love In", on a bill with other groups including Pink Floyd. But their main impact was with the two singles mentioned above, so they were never invited to do a Top Gear session - indeed by 1968 the original band had split up.
Even if they had no major hits, The Creation became collectors' favourites, and Peel would occasionally play the band's material in later decades. They influenced many musicians played by Peel including Alan McGee, who named his band Biff Bang Pow! after one of the group's singles, and also the label, Creation Records, after them.
Shows Played
1979
1984
1994
1998
2003
See Also
External Links