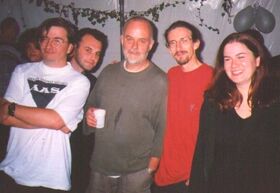 Related article: South Park
"Without any shadow of a doubt, the Cuban Boys exist and continue to exist because of the legendary DJ, John Peel. He was the first person to champion the band, and he remained a loyal supporter before, during and after the Cuban Boys gatecrashed the UK Charts. During the period from 1998 to 2001, any listener of the John Peel Show would be all too aware that the Cuban Boys were a regular feature on the show whether just simply having an email read out, a track played or a session aired. John Peel and the Cuban Boys were so closely connected that John considered the band as an extended part of his own family, often inviting them along to the live shows at BBC Maida Vale." Cuban Boys website.
"As regular listeners will know, our bodies throb in unison in this house at the mere mention of the name of the Cuban Boys, so we certainly love 'em." (19 January 2000)
The Cuban Boys are a group variously described as a 'pop act' (Discogs) and ' production team' (Wikipedia). They rely on fast electronic beats and heavy sampling. Their musical career has not followed a conventional path, with many of their tracks being made available as free mp3 downloads and the majority of it unavailable commercially. Skreen B and Ricardo Autobahn (as John suggested, not the name he was born with) were signed to EMI, but it was a short and unhappy relationship. The poor sales of their debut LP, Eastwood, can be laid squarely at the company's door, since they spent little on marketing it and replaced unauthorised samples with obvious imitations, presumably without the band's consent.
As a result of this, the band recorded a version of the Sex Pistols's EMI and virtually ceased all activity under the Cuban Boys name, although they reformed for The Nation Needs You, and have released two LPs on their own label, House Of Beauty (one a compilation). Pete Townshend featured two of their songs during his John Peel lecture of 2011. The band had reformed under the name of Beatbox Saboteurs since 2002.
Links To Peel
As the band have pointed out above, their career has been linked inextricably with Peel's show: Skreen was a regular contributor to the chat rooms and competitions, and one track, Flossie's Alarming Clock, was named after Florence Ravenscroft, one of Peel's daughters. Their association began when the band sent him a one-off CDr, their first recording, and he began to play it shortly afterward (the first play of Cuban Boys Go Boom! was on 21 July 1998, and the band celebrated this ten years later by posting a tribute on their website: "John was there right at the very beginning, and he was still there supporting us at the end. We still miss him every single day." [1]
The Cuban Boys recorded two Peel sessions, composed entirely of deconstructions of found material and cover versions, and scored seven Festive Fifty entries, including the number one for the 1999 Festive Fifty, Cognoscenti vs. Intelligentsia, which also hit the top five in the UK charts. Peel wrote the sleeve notes for their debut LP Eastwood, in which he stated:
"I don't think they're going away just yet. I hope not anyway. We've enjoyed them a lot in our house. And if they do turn out to be one-hit wonders, so what? I've never had a hit and I don't suppose you have either."
In the year following Peel's demise, the band were active in supporting John Peel Day and made The Nation Needs You, including samples of John's voice, available to download: this subsequently became their last Festive Fifty entry until a remixed version appeared in the 2014 Festive Fifty to commemorate the tenth anniversary of Peel's death.
Festive Fifty Entries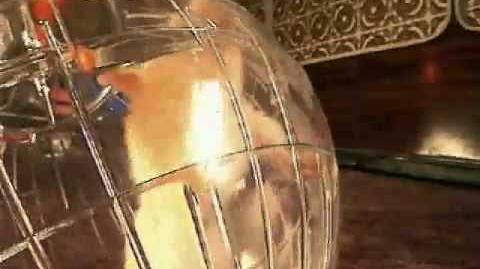 The band entered the chart seven times, once after Peel's passing, and garnered a number 1 in 1999 with
Cognoscenti Vs Intelligentsia
, which also reached number 4 in the UK charts (and which one listener was quite outraged not to find in the
Peelenium 1999
). Had it got to number one, John surmised it might have been the most irritating record to do so since Rolf Harris'
Two Little Boys
in 1969. As their website pointed out, most of the entries came from material that was unavailable in the shops:
"That simply explains the relationship the band had with John and his listeners - no great distinction between their an entry which sold over 250,000 copies and one which only existed as a one-off cdr burnt just for John Peel."
[2]
Their final entry was with The Nation Needs You, a tribute to Peel which featured the man himself in the mix.
Post-Peel
Sessions
Two sessions. No known commercial release.
1. Recorded 1998-12-06. First broadcast 13 January 1999.
Oh My God They Killed Kenny / Stardust Pt. 3 Ariana In Space / Hanging On The Telephone / Let's Get Raunchier
2. Recorded 2000-03-22. First broadcast 10 May 2000.
From Out Of Nowhere / The Number One Song In Heaven / Ghosts / The Laughing Gnome
Other Shows Played
(The list below was compiled only from the database of this site and Lorcan's Tracklistings Archive. Please add more information if known.)
1998
1999
2000
2001
2002
2003
2004
16 March 2004: (Disclaimer for Peel show from Skreen of Cuban Boys.)
See Also
External Links
Community content is available under
CC-BY-SA
unless otherwise noted.