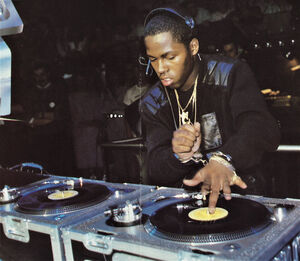 DJ Cheese (born Robert Cheese) was an American DJ, who was the First World Champion of the DMC World DJ Championships in 1986 (and the first to feature scratching). He appeared in the 1986 UK tour with Run-DMC. An important figure in the history of turntablism. His winning performance from the UK Disco Mix Club (DMC) 1986 competition incorporated scratching, which initiated a different approach to deejay battling and changed the course of DMC competitions moving forward. Eventually, his innovation modified the meaning of DJ battles, turning the DMC into a competition largely focused on turntablism (scratching and beat juggling), which had a significant impact on helping spectators perceive turntablists as musicians.
Cheese released 12" singles with his group Word Of Mouth entitled 'Coast to Coast' and 'King Kut' in 1985 and 1986 before disbanding. Cheese also worked as an incognito scratcher with lesser known groups such as Z-3 MC's ('Triple Threat'), Rap-O-Matic ('Lies, Lies'), Point Blank MC's ('What The Party Needs'), and K-Rob (I'm A Homeboy). Fats Comet used his techniques on the UK Worlds Records label with the 1986 song 'Eat The Beat' and also provided the scratching on the DJ version of Princess 12" single and top 20 hit "I'll Keep On Loving You".
Links to Peel
Peel was impressed with DJ Cheese's work with Word Of Mouth and interviewed the artist for the Rock Around The Clock: Hip-Hop Grandmaster Class, as part of the Rock Around The Clock TV programme in 1986,
On his 23 September 1986 show, Peel mentioned DJ Cheese as being rude when interviewing him on Rock Around The Clock, but it didn't seem to stop him playing his music on his radio shows, even in the 90's and early 00's, when turntablism was considered old fashioned in the hip hop world.
Shows Played
1986
1987
1990
1997
2000
2001
External Links
Community content is available under
CC-BY-SA
unless otherwise noted.