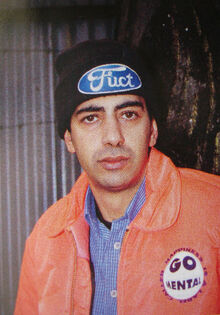 Jon Kyriacou is a British Happy Hardcore and UK Hardcore DJ plus producer of Greek Cypriot descent, also known as DJ Kaos & promoter of various UK Hardcore events. He also ran Wax City Records in Croydon along with Kevin Energy & ran a small tape pack & record stall in Camden Market (also called Wax City Records) after the shop closed down. Kyriacou has worked under several DJ names including the Omen, Waxman and his collaborations with various DJ's under the names of Kaos & Ethos, DJ Kaos & DJ Huxley and Deejay Kaos & Darkside.
Links To Peel
Peel enthused about DJ Kaos' 'Hold Me Now' (which sampled Chicago's 'Hard To Say I'm Sorry') on his December 1996 (FSK) show:
"But this could very easily be, well I could say the record of the decade, but it would be a very silly thing to say, but it's certainly is a late contender for the record of the year for me, and there's not much I can tell you about it, beyond the fact, it's by Kaos and if you're a Chicago fan, you may find this interesting."
The record was one of his selections for the Peelenium 1996. He also included DJ Kaos' 'Go Mental' as one his recommended records of the month in March 2003 (Peel's Record Box), with 'Morse Code' following in the next month's list (see April 2003 (Peel's Record Box)). Peel also played various pseudonym records by Kyriacou including Waxman's Heaven which used the sample of Belinda Carlisle's Heaven Is A Place On Earth.
Peelenium
Shows Played
DJ Kaos
Waxman
Go Mental
DJ Kaos & DJ Huxley
DJ Kaos & Darksyde
Kaos & Ethos
Omen
See Also
External Links