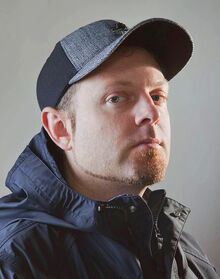 Joshua Paul Davis (born June 29, 1972 in San Jose, California), better known by his stage name DJ Shadow, is an American record producer and DJ. He first gained notice with the release of his acclaimed debut studio album, Endtroducing...... He has a personal record collection of over 60,000 records.
DJ Shadow is widely credited as a key figure in developing the experimental instrumental hip-hop style associated with the London-based Mo Wax label. Inspired by hip-hop's early years, he then grew to absorb the heyday of crews like Eric B. & Rakim, Ultramagnetic MCs, and Public Enemy; groups which prominently featured DJs in their ranks.
Links to Peel
In an 2014 interview with the WUNC website, DJ Shadow acknowledged the influence of Peel when he was young:
"That's also something that I got from John Peel, the legendary BBC DJ. I used to read his writings in NME in the '80s. I used to go to a little newsstand in Davis where I was growing up that was run by these two English girls, and they used to import all the British music magazines. I noticed way back then that [the magazines] were way more inclined to cover American hip-hop that SPIN or Rolling Stone ever were. It was the only place I could read about an emerging artist like Just-Ice, or Melody Maker famously once had Sweet Tee on the cover. You'd never get that in the States. I used to read those magazines and I became aware of the stature that John Peel had amongst the writers and amongst the artists. He said in an interview in one of the magazines, like, "I can't understand why a kid would be walking around in a Led Zeppelin T-shirt in 1986, there's so much good, important music that needs support now. It's the classics of today." That really resonated with me growing up in the Sacramento Valley, which was such a classic rock haven and where it seemed like so few of my peers were listening to anything new. It was all about the glories of their parents' generation, and I could never understand that." [1]
Peel played some tracks from the DJ on his shows and in 2003, DJ Shadow sampled JP's voice from UK Buzz in his Diminishing Returns Party Pak album, although it doesn't seem he played any tracks from it on his shows.
Festive Fifty Entries
Live
Recorded live at Sound City. Broadcast: 30 October 1997
Other Shows Played
1995
01 April 1995: What Does Your Soul Look Like (CD single - What Does Your Soul Look Like) Mo' Wax
1998
2000
2001
2002
23 May 2002: Disavowed (single – You Can't Go Home Again) Island
External Links
Community content is available under
CC-BY-SA
unless otherwise noted.