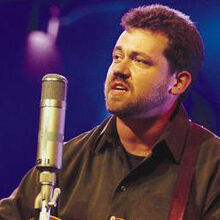 Daniel John "Dan" Tyminski (born June 20, 1967) or Tyminski is an American bluegrass composer, vocalist, and instrumentalist. He is a member of the band Alison Krauss and Union Station and has released two solo albums, Carry Me Across the Mountain (2000), on the Doobie Shea Records label, and Wheels (2008), on the Rounder Records label. He is known for his updated version of the song "Man of Constant Sorrow," which was featured in the movie O Brother, Where Art Thou? In 2013, he was the vocalist on Avicii's international hit "Hey Brother" from the album True.
Links To Peel
Peel played a track from Tyminski from the movie O Brother, Where Art Thou? which in an interview with Jeff Mills for Fact magazine in 2003 was his favourite soundtrack album. (In the same interview, Peel said his favourite film was Blues Brothers or Return of the Living Dead.)
On his 01 January 2002 show, Peel noted that he had received the soundtrack as a Christmas present and "we got the film as well" (presumably in video or DVD form). He would subsequently play tracks from the recording on his shows in the early part of 2002. However, no other tracks from Tyminski was played on his shows.
Shows Played
2002
External Links