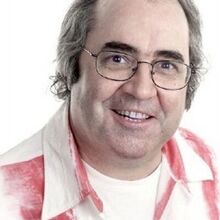 Danny Baker (born 22 June 1957) is an English comedy writer, journalist, radio DJ and screenwriter. Since the late 1970s, he has worked for a wide range of publications and broadcasters including NME, LWT, the BBC and Talk Radio. Baker was born in Deptford in south east London to Fred "Spud" Baker, a dockworker, and Betty, a factory worker. He grew up in Bermondsey. He attended Rotherhithe Primary School and then instead of taking up a grammar school place he went to the nearby West Greenwich Secondary Boys School, Deptford. He left the school in 1973 at the age of 14 and initially worked in One Stop Records, a small but fashionable record shop in South Molton Street in the West End of London. The youngest of three children, he has an older sister, Sharon, and had an older brother, Michael, who died aged 29 when Danny was 24. (...read more on wikipedia)
Links To Peel
Peel's favourite band The Fall were first spotted not by Peel but by John Walters, who following a recommendation from Danny Baker saw them supporting Siouxsie & The Banshees at the Greyhound in Croydon and sent singer Mark E. Smith an invitation for their first session using the words, "You don't know me but I know you."
Baker also interviewed Peel on BBC Radio One in 1995 after his appearance on This Is Your Life, where he talked amongst others the difficulty of taping his first Top of the Pops in many years and his appearance being interrupted by Michael Aspel with the red book.
External Links
Community content is available under
CC-BY-SA
unless otherwise noted.