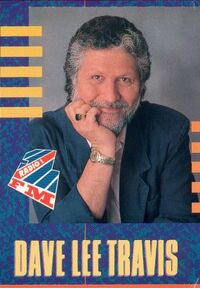 Dave Lee Travis
is a British radio broadcaster who was a colleague of
John Peel
at Radio One from
1968
to
1993
, and at BBC World Service from
1978
to
1999
. He was investigated on charges of indecent assault, along with many other high profile media personalities, as part of Operation Yewtree in 2012: he narrowly escaped prison as a result.
Relationship with John Peel
Many of the DJs of the era were extremely flamboyant and actively sought as much media coverage as they could get. JP clearly had little respect for many of his colleagues for such behaviour, with Dave Lee Travis being among his least favourite. He nicknamed him on occasion 'Dicky Lee Torpid', referring in at least one show to Travis taking off records mid play [1].
Travis had started his DJ career in Manchester; reportedly he and Jimmy Savile were the top live DJs in the city in the mid-1960s[2]. Like Peel, he achieved national fame on a pirate ship, in his case Radio Caroline, before joining Radio 1; unlike JP, he resigned on-air in 1993 due to his disagreement with Matthew Bannister's changes to the station's policy. DLT was frequently the subject of critical remarks from Peel:
However, despite Peel's comments, Travis was a successful World Service presenter, hosting the above-mentioned listeners' request show from 1981 to 2001. In 2011, Burmese pro-democracy leader and Nobel Prize winner Aung San Suu Kyi told the BBC that A Jolly Good Show had given her a lifeline during her years of living under house arrest. This led to some sceptical comments in the British press from those who had never heard the programme, but on his World Service shows, Travis toned down the mannerisms that irritated his critics and showed respect for his global audience.
Peel, as a lover of vinyl records, didn't understand why Travis didn't share his enthusiasm, as the following "well-known but telling tale" illustrates:
Travis was having a party at his home, and decided to invite John Peel, then the only DJ at Radio 1 with a serious interest in the music he played. Peel, who was much older, and held a far more marginal position in the station's daily schedule, went along out of curiosity. Looking around Travis's house he 'suddenly realised that DLT didn't own any records. He asked him, and DLT said, "Oh no, it's too much trouble and the dust ... Anything I really like I've copied on tape. I've got quite a lot of tapes and I play them in the car, you see." '[7]
Peel on his 16 February 1992 (BFBS) show tried to give free copies of Dave Lee Travis's book of photographs, 'Bit Of A Star' in the hope that listeners would write in to the show. But If JP had plenty - most of it negative - to say about Travis, DLT doesn't seem to have said much about him.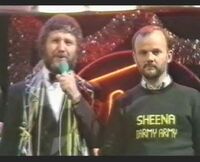 Dave Lee Travis appeared as a co-host with Peel in occasional, multi-DJ episodes of
Top of the Pops
during the 1980s. They never appeared as joint hosts, which was not surprising given Peel's thinly-veiled dislike for his colleague.
Links
Community content is available under
CC-BY-SA
unless otherwise noted.