Jurassic World: Dominion Dominates Fandom Wikis - The Loop
Play Sound
"We kept Bowie alive for a couple of years. He went through a bad patch of not getting very much work and people not paying a great deal of attention to him. He did a lot of sessions during that time." (John Peel, Radio Radio)
"I just liked the idea that he was always a step or two ahead of the game."
(John Peel, Peeling Back The Years)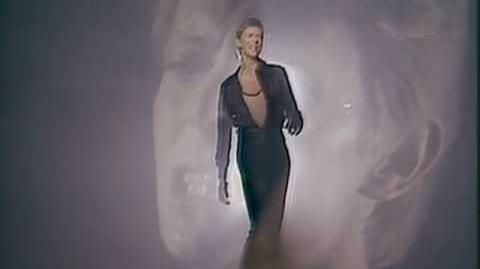 David Bowie (born David Robert Jones, 8 January 1947 – 10 January 2016), was an English musician, actor, record producer and arranger. A major figure for over four decades in the world of popular music, Bowie is widely regarded as an innovator, particularly for his work in the 1970s … (read more at Wikipedia)
Links To Peel
Bowie's earliest singles made little impact either in the UK or US charts, but things began to change with "Can't Help Thinking About Me", which made the Radio London charts and received plenty of airplay on the pirate station. After this, Bowie signed to Deram, a new label set up by Decca Records to release adventurous yet still commercial pop material. His singles of 1966 and 1967 also made Radio London's charts, even if they did not feature in the national top thirty, and tracks from his first LP, David Bowie, were played by the station's DJs, including Peel. However, he did not become one of the mainstays of Peel's Perfumed Garden and despite the efforts of his record company and management Bowie did not enjoy the commercial success of his Deram label-mate and fellow singer-songwriter Cat Stevens. Yet the album did enough to establish Bowie's reputation[1] and a first Top Gear session followed in late 1967.
When Peel was the subject of This Is Your Life in 1996, Bowie was happy to credit the DJ with giving him his first break at the BBC:
I remember around 1965 I did an audition for the BBC and I failed, and the report said, 'This vocalist is devoid of personality and sings all the wrong notes.' So in your inimitable manner and with tremendous enthusiasm you got me back on for another audition, which I passed the second time around, which gave me freewheeling access to a lifetime of singing all the wrong notes.
In fact, as Peel admitted on the 1993 radio documentary Bowie At The Beeb, it wasn't until The Man Who Sold The World LP of 1970 that he really became enthusiastic about Bowie's work and it had been producer Bernie Andrews who was responsible for booking the singer for his early sessions on Top Gear:
I'd played bits and pieces on the pirate ships and indeed on Top Gear, and he'd done the sessions of course for Top Gear, but by and large they were done because producer Bernie Andrews was keen on his work. I wasn't so keen but I had no influence on choosing who did sessions. This was during the Anthony Newley period of his career, which I didn't care for a great deal – still don't, to be perfectly honest with you.
Like Peel, Bowie was a friend of Marc Bolan, which helped him gain a support spot on the Tyrannosaurus Rex tour of early 1969 (see Gigography 1969). Thirty years later, on the Peel Night TV special to celebrate the DJ's 60th birthday, Bowie remembered:
When you worked with me on the T-Rex tour and I was doing a mime piece based on the invasion of Tibet by the Chinese ... you decided that the problem was that I was doing mime. You didn't like mime, and until I came here to America I never realized that you were right - nobody in the world likes mime. Thanks for the advice about the songs. I'm glad I stayed with the songwriting.[2]
Peel played the new Bowie single Space Oddity on 06 July 1969 while bemoaning the fact it was obviously not bound for the charts. Although the record eventually became a surprise hit,[3] Bowie's career continued to tread water as he tested different directions. Peel would later recount on numerous occasions the story of Bowie writing to ask him for money:
People weren't paying a great deal of attention to what he did, to the point where I have letters from him at home – which I bet are worth a pretty penny now – in which he asks me for money to support the Beckenham Arts Lab, and these are full of drawings of what he wanted to do with the buildings and so on. I didn't send him any money, although I used to send money to lots of people, but not to him. (Bowie At The Beeb)
Before his big breakthrough with the Ziggy Stardust album (1972) Bowie was featured in BBC concert programmes hosted by Peel in both 1970 and 1971. In Margrave Of The Marshes, Sheila Ravenscroft quotes a 1969 letter from Bowie to Peel requesting a booking:
I think I should stay out here [Bromley] for most of the summer, and come to town just for the gigs and the one or few friends that I know. Do you think we could do your Strand place soon? It would be nice to work so close to Charring Cross as my last train leaves at 12:15.[4]
Peel continued to play Bowie's records regularly until the turn of the 1980s. Heroes was included in the DJ's self-chosen 1977 Festive Fifty and the following year he played the whole of the Stage double album. In later years, however, he tended to play down his earlier connections with the singer, perhaps influenced by an incident at a record company reception when he was apparently forcefully blocked from approaching Bowie by an American bodyguard.[5] Bowie himself, however, was always generous in his public thanks to Peel for his early support. After Peel's death, Bowie invoked the DJ's name when backing the ultimately successful campaign to keep BBC Radio 6 Music from closure.[3].
In 2012, in an online documentary for TheSpace website, Spiders From Mars bassist Trevor Bolder and BBC engineer Nick Gomm recalled Bowie's historic fourth Peel session, which introduced material from the upcoming Ziggy Stardust LP. The following year, the John Peel Archive site released details of Peel's collection of Bowie singles.
Festive Fifty Entries
Peelenium
Sessions
Four sessions. Official releases:
- #1 available on the 40th anniversary edition of "David Bowie" (Deram - 531792-5).
- #2 available on "Conversation Piece" (DBCP 6869, 2019). "When I'm Five" previously appeared on  the 40th anniversary edition of "David Bowie" (Deram - 531792-5), rest of the session previously appeared on "Bowie At The Beeb" (2xCD, EMI, 2000).
- #4 available on "Bowie At The Beeb" (2xCD, EMI, 2000) and on "Original John Peel Session: 23rd May 1972" (Digital EP, EMI, 2008).
1. Recorded: 1967-12-18. First broadcast: 24 December 1967. Repeated: 28 January 1968 (presented by Peel and Tommy Vance).
Love You Till Tuesday / When I Live My Dream / Little Bombadier / Silly Boy Blue / In The Heat Of The Morning
2. Recorded: 1968-05-13. First broadcast: 26 May 1968. Repeated: 30 June 1968.
London Bye Ta-Ta / In The Heat Of The Morning / Karma Man / When I'm Five / Silly Boy Blue (first play 30 June 1968)
3. Recorded: 1972-01-11. First broadcast: 28 January 1972. Repeated: 31 March 1972
Hang On To Yourself / Ziggy Stardust / Queen Bitch / Waiting For The Man / Lady Stardust
4. Recorded: 1972-05-16. First broadcast: 23 May 1972. Repeated: 25 July 1972, 27 June 1977, 05 September 1981
White Light White Heat / Moonage Daydream / Hang On To Yourself / Suffragette City / Ziggy Stardust
Live
08 February 1970 (with Hype). Recorded 1970-02-05. Full session available on "The Width Of A Circle" (CDWOAC 50, 2021). "Amsterdam", "God Knows I'm Good", "The Width of a Circle", "Unwashed and Somewhat Slightly Dazed", "Cygnet Committeee"

 and "Memory Of A Free Festival" previously appeared on "

Bowie At The Beeb

"

 (2xCD, EMI, 2000).
Amsterdam
God Knows I'm Good
Buzz The Fuzz
Karma Man
London Bye Ta-Ta
An Occasional Dream
The Width Of A Circle
Janine
The Wild Eyed Boy From Freecloud
Unwashed And Somewhat Slightly Dazed
Fill Your Heart
The Prettiest Star
Cygnet Committee
Memory of a Free Festival
20 June 1971. Recorded 1971-06-03. "Bombers", "Looking for a Friend", "Almost Grown", "Kooks", "Andy Warhol" and "It Ain't Easy"

 available on "

Bowie At The Beeb

"

 (2xCD, EMI, 2000).
Queen Bitch
Bombers
The Supermen
Look For A Friend
Almost Grown (lead vocals by Geoffrey Alexander)
Kooks
Song For Bob Dylan (lead vocals by George Underwood)
Andy Warhol (lead vocals by Dana Gillespie)
It Ain't Easy (lead vocals by David Bowie, Geoffrey Alexander and George Underwood)
Other Shows Played
The list below was compiled only from the database of this site and Lorcan's Tracklistings Archive and is certainly incomplete. Please add further information if known.
1969
06 July 1969: Space Oddity (single) Philips (Peel bemoans the fact that David Bowie's new single is obviously not bound for the charts)
27 July 1969: Space Oddity (single) Philips
06 August 1969: Space Oddity (7") Philips
1970
1971
1972
1973
1975
1976
1977
1st week of 1977: Breaking Glass
10 January 1977: Subterraneans (LP - Low) RCA Victor
1978
1979
1980s
1990s
2000s
Top Of The Pops
Others
Covered
Listing taken only from the Cover Versions page of this site. Please add more information if known.
Performing Artist | Song | First Known Play
See Also
External Links
References