David Jensen (born 4th July 1950) was born to a Danish family residing in Canada and began his career in his home country at the age of sixteen playing jazz and classical music. He then joined Radio Luxembourg at the age of eighteen in 1968. His late-night show, "Kid Jensen's Dimensions," concentrated on "progressive" music and attracted many fans, including former British prime minister Tony Blair. By 1974, Jensen was becoming a TV personality in Britain, hosting pop shows on ITV, and in the mid-1970s he worked for the then-new Radio Trent (now Capital East Midlands) in Nottingham, one of the first legal, land-based commercial radio stations in the UK. During the early part of his career he was billed as "Kid Jensen" and did not use his given name professionally until 1980. Since the 80's, he has worked for several radio stations including BBC Radio One, Capital FM, Heart 106.2, Capital Gold, Planet Rock and Smooth Radio.
Relationship with John Peel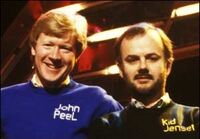 Jensen began his career in 1969 as Radio Luxembourg's late-night "progressive" music DJ, nicknamed "Kid" by colleague and future Radio 1 companion Paul Burnett because of his youth. His show "Dimensions" was followed by Peel's "Stenhousemuir 2 : Cowdenbeath 2" towards the end of its run, so it is likely that Peel's admiration for his fellow "Rhythm Pal" dates from their time as Luxembourg colleagues.
During Jensen's second stint at the Radio 1, his show preceded Peel's in the weekday evening schedules, branded as the "night time radio" package with their own dedicated jingle which included both names. The pair were close, with Peel referring affectionately to his "Rhythm Pal" as "The Laird" in a nod to the younger DJ's Scottish heritage.
In addition, Peel would often playfully refer to his colleague as "Kid Jerkin". Jensen responded by referring to Peel as, "music-loving Johnny Plee", a name that Peel noted was starting to catch on in April 1979
[1]
. The two also worked together on
Top Of The Pops
(see below) Jensen admitted that discussing his departure from the BBC in 1984 with Peel, "was a very sad moment".
[2]
In later years, he appeared as a guest when Peel was the subject of
This Is Your Life
.
Top Of The Pops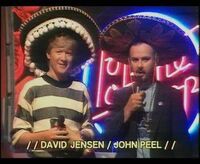 David Jensen appeared as a co-host with Peel for eighteen episodes of
Top of the Pops
between
1981
and
1984
. He and
Janice Long
were the only radio one DJs to regularly co-host the show with Peel in the 1980s. The duo made regular appearances together, most notably in
1983
and in
1984
. When Jensen left the BBC in July 1984 he told
Smash Hits
that his one big regret was breaking up the "rhythm-pals" act with Peel and "not being able to do things like Top of the Pops with Peelie anymore".
[3]
Links
Community content is available under
CC-BY-SA
unless otherwise noted.