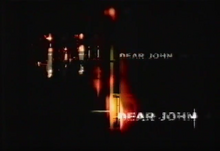 Dear John - Kevin Samson was a short documentary film shown on 29th August 1999 during John Peel Night on BBC2, to celebrate Peel's 60th birthday. The short film was about Peel's influence on Kevin Samson, writer and former manager of The Farm, and was uncredited on programme listings on the Radio Times.
Links To Peel
Kevin Samson talks about how Peel would give out Liverpool football results on his shows and how he helped the band The Farm gain exposure to his listeners.
External Links
Community content is available under
CC-BY-SA
unless otherwise noted.