Show
Name
Station
YYYY-MM-DD
Comments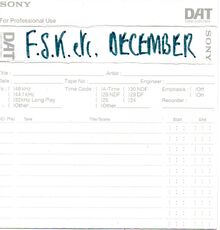 Beginning of show: 'Hello again German speaking friends, I'm John Peel with 2 hours of Christmas favourites just for you'.
Peel plays a track from Federation X covering Budgie's Theme For A Nude Disintegrating Parachutist Woman.
Peel plays a track from DJ Fresh, who collaborated with Rita Ora to produce Hot Right Now, which reached number 1 in the UK singles chart in 2012.
Peel plays a track from Stylus, which samples Richard Burton reading Dylan Thomas' poem 'A Child's Christmas In Wales'.
Sessions
Tracklisting
(JP: 'And this is indeed a Christmas record and it's from Elephant Man, noted homophobe, but I can't detect any homophobia in this particular track, perhaps he cleaned up his act because he signed to a major label and realises that it's not a cool idea after all or perhaps actually he's just a wiser man, anyway let's hope it is the latter really, this is Badman Holiday')
(JP: 'This is one of the greats, a man who never did a session, but by god I wished he had done, this is Jimmy Reed')
File
Name
Length
Other
Thanks to Max-dat for the recording.
Available