(This page covers the career of Dennis Bovell, including work with Matumbi and as Blackbeard.)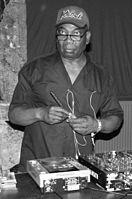 Dennis Bovell (born 22 May 1953) is a reggae guitarist, bass player and record producer. He was a member of the British reggae band Matumbi, and released dub records under his own name as well as the pseudonym Blackbeard. He is most widely known for his decades-spanning collaborations with Linton Kwesi Johnson.
(Read more at Wikipedia.)
Links to Peel
Dennis Bovell was a central figure in the emergence of British reggae in the the second half of the 1970s, both as a musician and as a producer. Among his chart successes, he wrote and produced "Silly Games" by Janet Kay, which reached #2 in the UK charts in 1979,[1], while his band, Matumbi, were perhaps best known for recording the theme song of the television series Empire Road. Bovell has also worked extensively with members of Aswad [2] and was engineer on "Dub From Creation" by Creation Rebel, the first album helmed by a novice Adrian Sherwood.[3]
Always keen to encourage UK-based reggae talent, Peel was more than happy to give airtime to Matumbi, and especially Bovell's groundbreaking work as producer and musical director for reggae poet Linton Kwesi Johnson. The DJ appeared to take less interest in Bovell's more commercial productions for lovers rock artists, but he did continue to play dub releases put out under the Blackbeard alias.
Bovell is also known for his production work outside the reggae field, including for Peel session artists such as the Amazulu, Angelic Upstarts, Cook Da Books, Float Up CP, Fela Kuti, Madness, Orange Juice, Pop Group, Sharon Shannon, and the Slits.[4]
Festive Fifty Entries
Sessions
Two sessions with Matumbi. No known official release. Bovell also played on two sessions by Linton Kwesi Johnson.[1]
1. Recorded: 1978-02-28. First broadcast: 03 May 1978. Repeated: 19 May 1978
Music In The Air / Rock / Chatty-Chatty
2. Recorded: 1978-10-17. First broadcast: 13 November 1978. Repeated: 04 December 1978
Empire Road / Bluebeat And Ska / Money / Hook Deh
Other Shows Played
(The following list was compiled only from the database of this site and Lorcan's Tracklistings Archive. Please add more information if known.)
Matumbi
17 February 1978: Guide Us (7" - Music In The Air / Guide Us) Matumbi Music Corp
Blackbeard
See Also
External Links
References
↑ LKJ later recalled that Bovell ended up playing all the instruments on the poet's second Peel session after the other musicians didn't turn up. (Ken Garner, Kats Karavan: The History of John Peel On The Radio (4xCD box set) - booklet introduction, pg 2.)
↑ Ken Garner, The Peel Sessions (p.220).
Community content is available under
CC-BY-SA
unless otherwise noted.