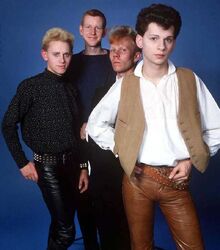 Depeche Mode are an English electronic music band formed in 1980 in Basildon, Essex. The group's original lineup consisted of Dave Gahan (lead vocals, occasional songwriter since 2005), Martin Gore (keyboards, guitar, vocals, chief songwriter after 1981), Andy Fletcher (keyboards) and Vince Clarke (keyboards, chief songwriter 1980-1981), who later on formed Yazoo (whose song Only You reached #12 on the 1982 Festive Fifty), Assembly (whose song Never Never at #23 on the 1983 Festive Fifty ) and Erasure. Clarke left the band after the release of their 1981 debut album, Speak & Spell, and was eventually replaced by Alan Wilder (keyboards, drums and occasional songwriter) with Gore taking over songwriting.  Wilder left the band in 1995. Gahan, Gore and Fletcher have since continued as a trio.
Depeche Mode have had many songs in the UK Singles Chart including top 10 hit singles and albums in the UK charts, two of them debuting at number one.  According to EMI, Depeche Mode have sold over 100 million albums and singles worldwide, making them the most successful electronic band in music history.
Links to Peel
Peel played some of Depeche Mode's early songs in 1981 on his show, but seemed to have lost interest in them after their debut album. Depeche Mode were never invited to do a session for JP and the only session they did for BBC Radio One was for Richard Skinner's show, broadcast on 1981-06-11. However in 1986 Peel saw them live and thought they were much harder edged than expected and was sufficiently impressed by their performance of Christmas Island to play it on the show.
Sessions
Shows Played
The list below is compiled from the database of this site and the John Peel Papers and is therefore incomplete. Please add further information if known.
1981
1984
1986
1993
2001
Top Of The Pops
External Links