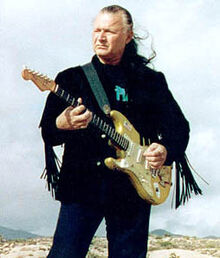 "Sort of like Hendrix, nobody else can do what he does. People should see it, it's absolutely astonishing." (31 March 1995)
Dick Dale (born Richard Anthony Monsour, May 4, 1937 - March 16, 2019) was an American surf rock guitarist, known as The King of the Surf Guitar ... The use of 'Miserlou' in the 1994 Quentin Tarantino film Pulp Fiction gained him a new audience . . . (read more at Wikipedia)
Links To Peel
Peel was well aware of Dick Dale before the guitarist's rediscovery in the 1990s. In a Disc & Music Echo column in 1971 he describes going on a hunt for old records in specialist record shops in Birmingham - "the singles, EPs and LPs I missed in my colourful youth". He obtained some by Dick Dale and told his readers: "Incidentally, those of you who think that playing the guitar fast is the same as playing it well would adore Dick Dale - he plays fast, fast, fast"[1]
Peel was highly impressed by Dick Dale when he saw the guitarist at The Garage in London in March 1995.[2] He recalled the experience soon afterwards on the TV programme Ten Of The Best:
"Dick played a blinder. I mean, he still cares about it. And he got stuck in, and I just went berserk, I have to admit. I went down to the front, I was covering everybody in beer, and dancing – which is something I don't do easily – and shouting at him between numbers. It was just marvellous."
After introducing himself to Dale backstage, Peel arranged what would be the first of five sessions by the guitarist for his show. At the end of 1995, the unrestrained enthusiasm of the DJ helped Dale become the oldest artist ever to chalk up a Festive Fifty entry, a record he renewed a year later.[1] For Radio 4 listeners, the guitarist's 'Let's Go Trippin' became familiar as the theme tune of Peel's Home Truths show, which started in April 1998. In September 2000, Dale shared the bill with the Fall at a special 'Peel Sessions Live' event at London's Royal Festival Hall.[3]
In earlier decades, Peel hadn't counted Dale among his favourites, despite living in America when the guitarist was enjoying his greatest chart success. However, the passage of time obviously painted him in a rosier hue:
"He was almost the only person that existed in California when I lived there in 1960: the man who single-handedly virtually invented a genre." [4]
Unlike others of his generation, the veteran king of surf guitar was able to offer something musically to Peel in a new era and from then on the DJ always held him in the very highest regard. On 02 October 2001, Peel learned that Dale would be opening for Clinic at some shows on the US west coast:
"Has the world gone mad? There's Dick Dale, one of the world's most important artistes, opening for Clinic. I'd say more like Elton John, Paul McCartney opening for Dick Dale really would make more sense to me."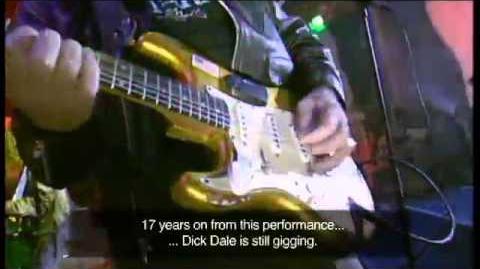 The final time Dale was to feature on the Peel show was 22 April 2004 when the guitarist's fifth session was broadcast. Peel commented:
"If you were making a list of the great surf guitar players, Dick Dale would fill the first 10 places at least."
In 2012, seven Dick Dale LPs were found in Peel's record collection when TheSpace and JohnPeelArchive websites released details of the first 100 albums by artists beginning D, along with a short video D Is For Dick Dale.[5]
Festive Fifty Entries
Peelenium
Sessions
Five sessions. No known commercial release.
1. Recorded: 1995-03-30 (in tandem with Andy Kershaw show, TX 1995-05-07). First Broadcast: 08 April 1995. Repeat: 23 December 1995.
Bo / Crankin' / The Wedge / Nightrider / 3rd Stone From The Sun / Miserlou
2. Recorded: 1995-07-10. First Broadcast 12 August 1995. No repeats.
Fish Taco / Kiss Of Fire / Let's Go Tripping / Peter Gunn
3. Recorded: 2000-09-21. First Broadcast 05 October 2000. No repeats.
Death Ride / Dune / Wake The Dead / Dulce Corazon
4. Recorded: 2002-08-28. First Broadcast 10 September 2002. No repeats.
Avalanche / Jesse / Gremmie 02 / Surftrip
5. Recorded: 2004-03-24. First Broadcast 22 April 2004. No repeats.
Shakin Stomp J P / Death Of A Gremmie / D D Shuffle / Mi Corazon (My Heart) / Dd Boogie
Other Shows Played
1970s
1980s
1990
1991
1993
1994
1995
1996
(JP: 'This man is a god! And to think that the Melody Maker or the NME, forget which one it was, dismissed him as a heavy metal guitarist or something.') However....
(JP: 'Sounds like another one of his tunes played slightly slower, but who really cares?')
1997
1998
1999
2000
2001
2002
2003
2004
Other
See Also
External Links
References
↑

Mark Whitby notes (in 'The Festive Fifty', Nevin Publishing, p. 43).
Community content is available under
CC-BY-SA
unless otherwise noted.