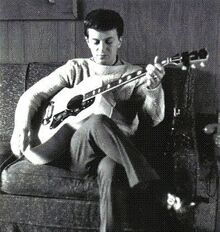 Dion Francis DiMucci (born July 18, 1939), better known mononymously as Dion, is an American singer, songwriter whose work has incorporated elements of doo-wop, rock and R&B styles—and, most recently, straight blues. He was one of the most popular American rock and roll performers of the pre-British Invasion era. He had 39 American Top 40 hits in the late 1950s and early 1960s as a solo performer, with the Belmonts or with the Del Satins. He is best remembered for the singles "Runaround Sue", "The Wanderer", "Ruby Baby" and "Lovers Who Wander", among his other hits.
Dion's popularity waned in the mid-1960s. Toward the end of the decade, he shifted his style and produced songs with a more mature, contemplative feeling, such as "Abraham, Martin and John." He became popular again in the late 1960s and into the mid-1970s, and he has continued making music ever since. Critics who had dismissed his early work, pegging him as merely a teen idol, praised his later work, and noted the influence he has had on other musicians.
Links To Peel
Dion had his biggest solo hits during the years Peel was living in America, so the DJ was certainly aware of his work. But after fading from view in the mid-1960s, Dion and the Belmonts reunited in 1967. Their album "Together Again" was praised in the UK music press for its musical adventurousness and chosen as one of the albums of the year in Record Mirror[1]. The singles from the album, "Berimbau/" / "My Girl The Month Of May" and "Movin' Man" picked up airplay on Radio London during Peel's time on the station and became London club favourites. There were cover versions of "My Girl The Month Of May" by the Alan Bown! and Fairport Convention..
After the group broke up, Dion's solo style became that of a singer-songwriter of the time, although he was respected because of his rock'n'roll background and was - unlike his contemporary Rick Nelson - always happy to perform his old hits as part of his set. Peel hosted a Dion live gig at the Paris Theatre, London, that was broadcast on 12 September 1971 and the singer included "The Wanderer" and "Ruby Baby" alongside his more recent material.
On his 01 January 1972 show, the DJ admitted that when he was young he recorded himself singing Dion's songs, especially 'The Wanderer' and 'Ruby Baby'. Peel occasionally played tracks from Dion's early period over the years. In 2000 he aired 'No One Knows' on his show after hearing that film director Neil Jordan had chosen the track as one of his selections for Desert Island Discs on BBC Radio Four.
Live
Recorded at the Paris Theatre, London: 1971-07-22. Broadcast: 12 September 1971
Brand New Morning
Too Much Monkey Business
Abraham, Martin And John
The Wanderer
Ruby Baby
Peaceful Place
Ain't No Doubt
Sunshine Lady
Other Shows Played
11 January 1972: The Wanderer (2 versions played, the 1962 version and a re-recording from his new album)
1973
1980
1984
1995
2000
2003
External Links
Community content is available under
CC-BY-SA
unless otherwise noted.