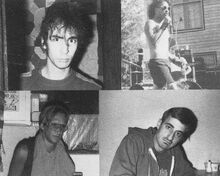 Disappointments were a punk/hardcore band from Muskegon, Michigan, USA, where some members also played as a touring band for GG Allin and the band itself also collaborated with the artist for the Outside Inside EP in 1989. GG is best remembered for his notorious live performances in the 80's and 90's that typically featured wildly transgressive acts such as defecating onstage, committing self harm, and a variety of violent actions towards the audience and even animals. GG died in 1993 of an heroin overdose, before pledging that he would commit suicide on stage as a work of art.
Links To Peel
Peel played some of the tracks from the Disappointments, but so far on record not of GG Allin.
Shows Played
This database is incomplete and is compiled from these website. If further information is known, please add.
1988
Mama Done Told Me

20 January 1988: Hint To Move / Mama Done Told Me (7" - Better You Than Me) An Ice Pick Production
20 January 1988: Big Fat Boss Man / No Pot (7" - Better You Than Me) An Ice Pick Production
25 January 1988: The Woe / Trash Fever (7" - Better You Than Me) An Ice Pick Production
06 February 1988 (Radio Bremen): Better You Than Me / Scar Yourself / Drink It Away / Brainwashed / Possessed / Wanker / Rehash / Squared / Find A Job / The Woe / Trash Feaver (7" - Better You Than Me) An Ice Pick
13 February 1988 (Radio Bremen): Big Fat Boss Man / No Pot / P.U.P. / Putting It Off / Credit Due / Wishing Well / Did It Wrong / Next To Impossible / Hint To Move / Mama Done Told Me (7" - Better You Than Me) An Ice Pick
10 February 1988: Rehash (7" - Better You Than Me) An Ice Pick Production
19 December 1988: The Woe (7" EP)
19 December 1988: Track Fever (7" EP)
External Links