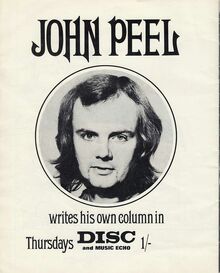 Disc & Music Echo was a weekly music paper, which was aimed largely at a teenage readership and was at the peak of its popularity during the heyday of pop singles in the mid-1960s. In spring 1966 it changed its name from simply Disc to Disc & Music Echo, and under the editorship of Ray Coleman (later to edit Melody Maker from 1970), it offered a lively view of the pop scene of the day.
Disc's influence declined in the 1970s, and in 1975 the paper, after having dropped Music Echo from its name in 1972, merged with Record Mirror.
Links to Peel
Aside from an earlier mention in Melody Maker of "John Peele" [sic[, Disc was the first of the pop weeklies to refer to Peel and his show, in three issues in July 1967 (sse below). noting his two-hour tribute to the Rolling Stones on the Perfumed Garden after Mick Jagger and Keith Richards had received prison sentences for drug posession, his increasing popularity with Radio London's listeners, and the fact that the station could be picked up with good reception in north-east Scotland, where Pink Floyd listened to his show after doing a gig.
Disc was more sympathetic to the pirate radio stations and DJs than some of its weekly rivals, which led to further mentions of Peel and his show in the period before Radio 1 began broadcasting. The paper became home to a Peel column for several years from 1968, when the DJ was becoming a fashionable and influential face on the pop scene. After JP joined the paper, it ran ads in the rival weekly Melody Maker hoping to gain extra readers by highlighting his contribution (for examples, see the Other Mentions sections of Melody Maker: 1968 and Melody Maker: 1969).
Writers with Peel connections who worked for Disc included Jonathan King (who praised Peel and predicted success for him in an August 1967 column, but later became more critical of his influence - see Other Mentions below), the influential and outspoken singles reviewer Penny Valentine, short-lived fashion editor and agony aunt Anne Nightingale, and "house hippy" Hugh Nolan, who later became a DJ, doing Peel-influenced programmes in the early 1970s for Radio Geronimo and Radio Seagull.
In the mid-1960s, Disc included a weekly American column by former Beatles publicist Derek Taylor, then living in Los Angeles and doing publicity for artists such as the Byrds, Paul Revere & the Raiders and Captain Beefheart. In 1967 Taylor embraced the hippy culture and was one of the organisers of the Monterey Pop Festival. His Disc column exuded the "utopian positivity of the Love Generation....spreading the word of Love to the uninitiated British" (Jon Savage, Mojo, June 2017, p.71). Apart from Melody Maker's Nick Jones, who briefly became an adherent of the hippy culture before leaving MM in late 1967, Taylor was the only writer in the British music press to express sentiments similar to those of Peel on the Perfumed Garden show on Radio London. [1]
Yet when International Times printed an article surveying the pop press in September 1969, the writer was unimpressed by Disc ("not recommended unless you are feeling miserable and cynical, in which case it may cheer you up with its sheer incompetence") ; "The really strange thing about the magazine is the never-ending flow of effort to get on terms with (to use a Disc word) the underground. A few months ago John Peel was enlisted in an effort to win over new readers but his 2 pages dwindled and finally disappeared."[2]. However, after this Peel began to contribute more regularly to the paper. By June 1970 he was listed as one of Disc's regular staff, alongside others including Penny Valentine, the only survivor from the paper's mid-1960s heyday (like him, she would later move to Sounds).
Disc gradually lost influence (and circulation) as the pop audience began to diversify. Pete Frame, surveying the pop press in 1972, wrote: "Disc, apart from John Peel's column, would seem to be an almost total waste of time and 6p." (Zigzag 24, 1972)
During the early part of his period with Disc, Peel also contributed a column to International Times; then, occasional articles to The Listener. From 1973, he started writing for Sounds.
Olivetti Chronicles
Several of Peel's columns for Disc & Music Echo were reprinted in The Olivetti Chronicles. For details see Disc & Music Echo: Peel Columns.
Other Peel Columns
For a list of available columns, see Disc & Music Echo: Peel Columns..
Interviews and Articles
1968
1972
February 12 Article on JP, after he'd been voted Top DJ in Disc's poll: "The private life of John Ravenscroft - by Peel's radio producer John Walters, the man they can't gag...." Walters pays tribute to the DJ and affectionately mocks JP in his usual style; "Six years at a leading public school fitted him for almost nothing of course, and I am sure that he feels it when we are in company and the assembled are applauding my observations about Wilde or witty asides in some foreign tongue... "[3]
1973
Feb 17 (Andrew Tyler: John Peel: Peel And The Pig — An Everyday Story Of Country Folk): John Peel is a sensitive figure with a sturdy patch on the crotch of his jeans and a tendency towards schoolgirls and sensible underwear ... (read more)
Other Mentions
1967
Sept 23 (News page - short item: "John Peel at Tiles") "John Peel's highly successful "Perfumed Garden" show opens a weekly spot at Tiles club, London, this Sunday (24). It will run from 8 p.m. to midnight."
Sept 30 News item; "Dave Dee, Bee Gees 'live' on Radio One". Preview of station's first days; "Traffic, Move and the Pink Floyd star in 'Top Gear', the three-hour Sunday afternoon show with Pete Drummond and DJ companions led by John Peel....[12]
Centre-page feature on Radio One includes picture of "the full crew on the BBC's new-look pop scene". Peel is on the bottom right, next to a cheerful Mike Ahern, on the edge of the picture - he's the only DJ in the group whose head and body aren't fully visible [13]
Oct 7 ("It's Onederful!")JP and Top Gear of 01 October 1967 included in a review of the first two days of Radio 1, by David Hughes: ""Top Gear" I enjoyed because I like John Peel and the music he plays...." (read more here)
Oct 14 Jonathan King column: "Top Gear" is very fine, and seems to have selcted a number of powerful DJs. I'd like to see John Peel, Mike Ahern and Tommy Vance with their own shows, leaving Pete Drummond in charge"[14]
Oct 21 "Pop the Question" - readers' enquiries: "Is there any news of a record by Nico and the Velvet Underground, whom I heard on John Peel's Radio London shows?" The reply; "News is that Verve are rush-releasing an album, 'The Velvet Underground and Nico', as quickly as possible...the same disc John was using on his 'Perfumed Garden' programme.."[15]
Oct 28 (Who's Who On Radio 1 series): By now it was four weeks since the station began broadcasting. Obviously Disc had graded the DJs by estimated importance and popularity, and so Tony Blackburn had received a whole page but Peel (and Pete Brady, Dave Cash and David Ryder) was alocated a couple of paragraphs at the bottom of page 11, underneath a far more important article about Cliff Richard's Christian beliefs. The last line of the piece on Peel says that in addition to contributing to the Sunday afternoon Top Gear programme, John also has a monthly news programme on "all the nice things happening in London" for Dutch TV.
Nov 18 Radio 1 Newsdesk, by David Hughes. "More changes in the Radio 1 programme.....Already out - Pete Drummond, whose six-week contract for Sunday afternoon's "Top Gear" expired last week. His place as resident compere has been taken by John Peel, and sharing the honours is former Luxembourg, Caroline and London DJ Tommy Vance. The programme has been firmly contracted at least until the end of the year."[16]
Dec 2  "Christmas LP alphabet". "V is for 'Velvet Underground and Nico', which John Peel and his many followers can tell you all about"[17]
Dec 9  "Scene" column: "DJ John Peel in hospital with appendix trouble"[18]
Dec 16 "Jonathan King's Christmas Awards": "A silver bust of Robin Scott's toes to all the DJs who have bowed towards them, but Golden Nail Oscars to the standout goodies - Everett, Peel, Denning, Vance, Henry, Freeman, Skues, Stewart and Moran. Aluminium Corns to Jimmy Young".[19]
Dec 30 ("Radio 1 men are queueing up to meet fans at the BBC stand") "Boys And Girls Exhibition" at Olympia has been running since 1967-12-30. Peel is not due to make his first appearance until 1968-01-03, alongside Tommy Vance and also Tony Brandon.
1968
March 23 (Scene gossip column): John Peel's late night Wednesday Radio 1 show is getting back towards his Perfumed Garden days...last week he played 17th Century French Baroque music, the Stones, San Francisco's Blue Cheer and far-out modern jazzman

Sun Ra

and his Solar Arkestra, plus poetry and stories. Nice! (As the issue would have hit newsstands on Thursday the 21st, the show referred to appears to be the Night Ride of

13 March 1968

, only the second one broadcast). Also: "John Peel is right - Tyrannosaurus Rex, heard on his Wednesday night show, are very good indeed."[28]
June 22 Jonathan King column; "What is all this country music and folk and R&B on Radio 1? John Peel is ethnic, but pop ethnic. I would have thought the other specialist forms were more suited to Radio 3. Seriously."
("Stones Office - Setting For A Mad Hatter's Tea Party", by Penny Valentine): "....I arrive at midday and they are waiting for Mick Jagger to arrive with John Peel for an interview. The five huge rooms - furnished like a flat - are in controlled uproar.." (read more)
July 13 Scene gossip column: "Why not smile occasionally, John Peel?"[41]
"Pop Post": Letter from Radio Luxembourg DJ

Don Wardell

about "the Bobby Vee versus John Peel disturbance" (referred to in a previous issue of Disc): "I can quite understand and appreciate what John Peel is trying to do.....but I would hate to be buried within a million miles of John Peel's "Perfumed Garden"!"[42]
August 3 Jonathan King column;"Tapes have been arriving....I'm ploughing through some at the moment, and there are some good things emerging. That sounds like a John Peel phrase (he is enthusiastic, thank God, though you might not guess it from his "I am gradually going into a coma" style voice)"[44]
Back page feature; "Sound off!" David Hughes's "report", describing and assessing the Radio 1 DJs, including Peel ("Verdict; very open to cynicism but I believe he is genuine, if a little pompous")[45]
August 17 "Hits and Myths! A light-hearted dig at the crazy side of the scene" Full-page article with many sentences beginning "It is a myth....", including "...That Tyrannosaurus Rex have hired John Peel to do their publicity"[46]
August 24 "Pop Post" Letter from reader in Glasgow; "Was John Peel a funeral director before he became a deejay? On Sunday afternoon when I'm feeling tired and weary after Saturday night, I turn on the radio and find this man raving in his monotone voice about some groups that sound as if they are singing into empty baked bean cans...." Another letter attacks Jonathan King for his criticism of the Doors; "...The Doors will remain to be one of my favourite groups (even if John Peel is the only deejay to play their records."[47]
October 12 Disc's Hollywood writer Judy Sims describes gigs and meetings with musicians during her holiday in London. "...there isn't much of a music scene in London these days. Radio One is a joke apart from John Peel and Kenny Everett and the uptight competition between groups creates a suspicious, unproductive atmosphere..."[48]
"Pop Post" One letter begins; "A reader refers to John Peel as a "conceited squirt". I strongly disagree. Peel is what pop needs today..."
Also a letter from Clive Selwood, responding to Jonathan King's attacks on the Doors: "...Since Mr. King has now begun to attack Pete Drummond and his excellent "Midday Spin", perhaps we can now look forward to an even greater degree of popularity for Pete. Jonathan - what an opportunity you missed when John Peel began broadcasting!" (As manager of both Peel and Drummond and head of Elektra in the UK, Selwood is defending his clients, but uses his home address in this letter) [49]
November 2 Front page photo of Peel (alongside main pic of Joe Cocker) with caption; "John Peel writes in a 5-page Underground close-up" (which includes his ABC Of Beauty)[50]
"Happening" column; "...with the Radio 1 fun at Walthamstow Stadium, Chingford Road, London E.4 next Monday (Nov. 4). Star DJs

Emperor Rosko

,

Tony Brandon

, John Peel, David Symonds,

Rick Dane

and Ed Stewart (plaster permitting) pit their Stock Car Racing skills against team of professionals..."
"Who would be your choice for the new Radio 1 boss?" Disc writers give their suggestions for Robin Scott's successor. Bob Farmer; "Terry Doran, the Beatles' mate would be ideal. He's totally disorganised which is what a pop station could be, would pledge to banish boring John Peel to "Trick Tracks"...."
November 9 "Happening" column; "John Peel should be happy. Tyrannosaurus Rex on Top Gear this Sunday..." [51]
"Pop The Question" - query from listener who heard Love Sculpture's "Sabre Dance" as a session track on "the John Peel show on Radio 1" . Reply describes how "the BBC has been bombarded with letters" since the track was broadcast on Top Gear and says the group have just recorded a single of it, to be rush-released in mid-November. "That's giving the public what it wants!"
Jonathan King column praises the ABC Of Beauty ; "John Peel's underground guide last week was interesting and specific. I still feel he tends to accept too much - but as I said - better to err on that side..."
November 30 "Happening" column; "Jools and Brian (i.e. Julie Driscoll and Brian Auger), Nice and Bonzoes relieve John Peel's monotones on Top Gear (Radio 1, 3-5 p.m.) this Sunday."[52]
1969
Unknown date (Readers' poll, front page article, photo of Peel with Liverpool FC scarf and looking serious): "Radio 1 Is Not All That Wonderful ... But Peel IS!" He's just been voted Top DJ (by a narrow margin over Kenny Everett) but the readers' negative view of Radio 1 is called "a stunning blow for the BBC, and especially for Radio 1 boss Douglas Muggeridge."
February 1 Scene gossip column:: "John Peel blossoming well as witty and competent show compere"[53]
"Happening" feature: "Jethro Tull, Fairport Convention and Idle Race gladden John Peel's heart on Sunday's Top Gear - though he is sounding happier every week now..." Also: "On the way"; "John Peel's very own TV show! Which means, if nothing else, that at last Family will be seen on British TV. No details finalised yet, but it is a definite happening...." (May refer to the pilot show Peel did for Granada TV, which was never broadcast). "New sound": "We may all be boggled by Misunderstood's "Children of the Sun", originally recorded three years ago propelled into release by John Peel, Meanwhile group have split..."
"Now - hear this".(with Peel photo) "....Next week, John himself, the man who more than anyone else turned the whole blues-underground-progressive-pop thing in Britain into popular music - launches a new Disc series - NOW! NOW! will appear every week in Disc....."
"Telescope". TV reviews by Vicki Wickham. "Cilla Black's show amazed me. It was everything I dislike, but packaged and presented in such an honest and unpretentious way that I enjoyed it....The choice of guests were excellent....Peter Cook - superb. He did a marvellous take-off of John Peel, assisted by Cilla, which ended with him offering a suited gentleman in the audience a brown paper bag to jump into after taking off his clothes...."
April 12: "Happening" feature: "Liverpool Scene, that multifarious assembly of minstrels from Scouseland, are to promote their own concerts from now on. First will be at London's St. Pancras Town Hall on April 26, 8 p.m., tickets ten shillings. Group's next LP, for June release and again produced by John Peel, is titled "Bread On The Night".[2]
July 5 Jonathan King column attacks teenage audiences "who looked ghastly" and "uncritically accept all the underground music, creative or rubbish...I saw them appreciate the Principal Edwards Magic Theatre, John Peel's latest "wow" group, with stale guitar solos, out-of-tune harmonies, pathetically verbose lyrical imagery..." Is also critical of Peel's influence on audiences but claims the negative effects aren't his fault ("John is a sincere, humorous and good disc-jockey").(read more)
"Happening": "BE IN by joining John Peel in a Macrobiotic Buffet luncheon at the ICA centre in London's Mall tomorrow (Friday)at noon. Unfortunately you need a ticket to enter into the feast, to launch John's new Dandelion underground label..... AN ALBUM John Peel's been raving about on "Top Gear" out on July 1. By Los Calchakis, it's called "Flutes Harpes and Guitares Indiennes." (link as above)
"Remember" - 5 years ago; "Disc, July 4, 1964. BBC producer Bernie Andrews selected "Top Gear" as the title for new Brian Matthew series from vast number of suggestions sent in by Disc readers. Are you reading, John Peel?" (link as above)
1970
March 14 "During the week Yoko Ono phoned to ask about a report that I'd "lashed out" at John Lennon and the next day I went along to the studio where they were doing the final editing of their peace film! The problem was, I explained, that the CND had tried again and again to get in touch with the Lennons for their help with the Easter March..." (an incomplete Peel column; read more)
June 13 "Top Gear moves into "First Gear" for four weeks in August with eight hours of "revived 45s." Says producer John Walters: "John Peel will he on holiday throughout August, so rather than try a watered-down 'Top Gear' I've decided to appeal to people's summer nostalgia, something Radio I has nver really exploited....Shows...will be hosted by 'Scene And Heard' man Johnny Moran..."[54]
Sep 12 "Pop Post" ; "I would like to thank John Peel for the interesting, original and highly enjoyable article he wrote in Disc (29.8.70). It must be one of the best he's written.....I would also like to thank him for turning me on to H.P. Lovecraft novels, he's brilliant, I've read two volumes of his stories already. I wonder if he has heard a band by the same name, they are fantastic...the music is really tripped out[55] (Peel played a few tracks by them in 1968)
Scene column; "At preview of Mick Jagger epic "Performance" last week; John Peel, Pig, Pete Drummond, Mike Raven and

Stuart Henry

."
1971
February 6 Scene column: "John Peel to be featured in TV documentary titled 'One Man's Week' being made by 'Late-Night Line-Up' team. While Peel's footballing part of the week was being filmed he almost wrecked it by smashing the camera and crew with a wildly shot football"[56]
February 13 Pop Post:- headline: "Peel's right about the freaks!" "If he can hear me over his mounds of tissues, I would like to congratulate Mr Peel (Mr Hypochondriac 1971) on his criticism of average progressive freaks' narrow taste...." (read more)
1972
1973
March (exact unknown unknown): "I'd love to hear a 10cc album." (The quote was subsequently used on the back sleeve of 10cc's self-titled first album.[58])
1974
See Also
References
↑ In April 1968 Taylor returned to England to work for the Beatles again, as the press officer for their newly created Apple Corps. After that, he joined the newly launched UK record company WEA, where Peel's manager Clive Selwood was also employed as manager of Elektra's London branch. One of the acts he encouraged was the Liverpool band Deaf School.
Links