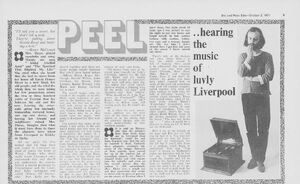 This page brings together columns written by Peel for Disc & Music Echo between 1968 and 1973. The paper became home to a Peel column for several years from 1968, when the DJ was becoming a fashionable and influential face on the pop scene. After JP joined Disc, it ran ads in the rival weekly Melody Maker hoping to gain extra readers by highlighting his contribution to what was still a teen-oriented paper which focused mainly on the singles charts.
In fact, Peel's first column for Disc was as a guest reviewer of the singles charts in January 1968. He became a regular columnist in early 1969, with an article in the February 1 issue[3] stating his column would be called NOW! (probably not his choice of title) and would appear every week. However, he didn't seem to contribute very regularly at first, perhaps because he was also writing for International Times until mid-1969. An ad for his column in the Melody Maker of 20 September 1969, stated:
"John Peel, who has been writing occasionally in Disc, rejoins the paper this week to write a fortnightly column about himself and his music. It's a unique insight every fortnight into the Thoughts of Peel"[4].
Later he wrote a weekly column for Disc (as advertised in the 8 November 1969 issue of Melody Maker) and by mid-1970 was listed as a full member of the paper's editorial staff. [1]. He switched to Sounds in July 1973, by which time Disc was losing readers to rival pop weeklies. But Peel's columns for Disc give plenty of information about what he was thinking, doing and listening to in the early 1970s and are of interest to followers of the DJ's career because only a few audio recordings of his shows of this era have survived.
Olivetti Chronicles
Several of Peel's columns for Disc & Music Echo were reprinted in The Olivetti Chronicles:
1970-1971 (exact date unknown): Ipswich, 119-21
1970-1971 (exact date unknown): Lovelace, pg. 146-50
1970-1971 (exact date unknown): Osmonds, pg. 197-200
1970-1971 (exact date unknown): Sick in Trains, pg. 273-7
1970-1971 (exact date unknown): Loudon Wainwright, pg. 327-30
1971-07-31: Peel at the 'Quiet' Albert Hall, pg. 214-17
1972-04-01: Captain Beefheart 2, pg. 39-41
1972-12-07: Football, pg. 94-6
1973-04-14: Roadshows, pg. 260-2
1973-04-21: Faces, pg. 88-9
1973-05-12: Liverpool, pg. 141-2
Other Columns
1968
Jan 20 (Chart page, "Hit Talk by John Peel"; "Englebert's is well-sung but so boring!"): It's incredibly sad that the National Press were so destructive in their reviews of "Magical Mystery Tour." They just seemed to have been waiting for the opportunity to pounce on the Beatles for something. Of all the songs I think "Blue Jay Way" is probably the most ...(read more)
Oct 5: Me (see separate page)
Nov 2 (John Peel's ABC Of Beauty, extract): ... Van der Graaf Generator: They seem to have disappeared briefly. Two of them (perhaps there are only two) came and sang songs for an hour on the floor of Peel Acres ... (read more[5]). An A-Z of British artists who'd caught Peel's attention at the time, both famous and obscure ("There will be complaints that this is a purely personal and arbitrary list. This is quite true...."). Complete article, together with One Stop Records Top 20 (Captain Beefheart's LP "Striclty Personal" is at number one), available here
1969
Unknown date (extract, reprinted Private Eye, Pseuds Corner, 1969): comparing Pink Floyd to the sound "dying galaxies"
April 5: It would be nice, perhaps, to talk of Principal Edwards Magic Theatre - a large group of gentle people who would seem to represent what is coming in the boundless universe of music. It is not easy to say exactly how many of there are because tonight, or tomorrow, you may be part of Principal Edwards ... (read more)
June 7 (extract; review of Deep Purple's The Book of Taliesyn); This has been around for a while in the import shops - you may have noticed John Vemon Lord's excellent sleeve. All the Harvest sleeves are good, in fact, all being gatefolds or whatever you call them....... The group have done some fine things for Radio One and they excite when they play live - that's why I don't understand where this record went wrong. It is all too restrained somehow......(read more)
Aug 2: "Peace-hunting Plastic Ono Band start a "war"!" Headline covers both Peel's column and Jonathan King's; they have contrasting views on the POB. Peel writes: It is nice to be, as Derek Taylor pointed out last week, a member of the Plastic Ono Band. If you remember, you are too - our first hit record and it is a good feeling. Play it somewhere friendly, and sing along and it does feel right ...JP also praises "The Forest", as he then called them and gives a list of "magic people" (read more)
Oct 4: Buxton, Derbyshire, is 48 miles from Chester, 24 from Chesterfield, 34 from Derby, 35 from Huddersfield, 25 from Manchester, 28 from Sheffield, 24 from Stoke-on-Trent and 159 from London. It seems an unlikely place for a joyful night ... (read more: upper part / lower part)
Oct 18: Anybody who can make their way to Paris should do so before October 24th. On that date starts something called the Actuel Music Festival[2] and this will run for five days. The main reason for going, personally, is the appearance of the righteous Captain Beefheart..... (Also recommends an unknown Bradford group called Penal Reform - who "confess to being influenced by Turkish music and Ornette Coleman" - searches for deleted records and recommends a few new ones, including some forthcoming LPs on Dandelion) (read more)
1970
1971
1972
References
.
Community content is available under
CC-BY-SA
unless otherwise noted.