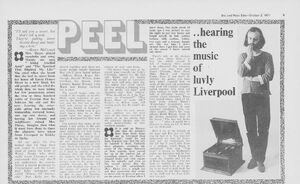 This page brings together columns written by Peel for Disc & Music Echo between 1968 and 1973. The paper became home to a Peel column for several years from 1968, when the DJ was becoming a fashionable and influential face on the pop scene. After JP joined Disc, it ran ads in the rival weekly Melody Maker hoping to gain extra readers by highlighting his contribution to what was still a teen-oriented paper which focused mainly on the singles charts.
In fact, Peel's first column for Disc was as a guest reviewer of the singles charts in January 1968. He became a regular columnist in early 1969, with an article in the February 1 issue[3] stating his column would be called NOW! (probably not his choice of title) and would appear every week. However, he didn't seem to contribute very regularly at first, perhaps because he was also writing for International Times until mid-1969. An ad for his column in the Melody Maker of 20 September 1969, stated:
"John Peel, who has been writing occasionally in Disc, rejoins the paper this week to write a fortnightly column about himself and his music. It's a unique insight every fortnight into the Thoughts of Peel"[4].
Later he wrote a weekly column for Disc (as advertised in the 8 November 1969 issue of Melody Maker) and by mid-1970 was listed as a full member of the paper's editorial staff. [1]. He switched to Sounds in July 1973, by which time Disc was losing readers to rival pop weeklies. But Peel's columns for Disc give plenty of information about what he was thinking, doing and listening to in the early 1970s and are of interest to followers of the DJ's career because only a few audio recordings of his shows of this era have survived.
Olivetti Chronicles
Several of Peel's columns for Disc & Music Echo were reprinted in The Olivetti Chronicles:
1970-1971 (exact date unknown): Ipswich, 119-21
1970-1971 (exact date unknown): Lovelace, pg. 146-50
1970-1971 (exact date unknown): Osmonds, pg. 197-200
1970-1971 (exact date unknown): Sick in Trains, pg. 273-7
1970-1971 (exact date unknown): Loudon Wainwright, pg. 327-30
1971-07-31: Peel at the 'Quiet' Albert Hall, pg. 214-17
1972-04-01: Captain Beefheart 2, pg. 39-41
1972-12-07: Football, pg. 94-6
1973-04-14: Roadshows, pg. 260-2
1973-04-21: Faces, pg. 88-9
1973-05-12: Liverpool, pg. 141-2
Other Columns
1968
Jan 20 (Chart page, "Hit Talk by John Peel"; "Englebert's is well-sung but so boring!"): It's incredibly sad that the National Press were so destructive in their reviews of "Magical Mystery Tour." They just seemed to have been waiting for the opportunity to pounce on the Beatles for something. Of all the songs I think "Blue Jay Way" is probably the most ...(read more)
Oct 5: Me (see separate page)
Nov 2 (John Peel's ABC Of Beauty, extract): ... Van der Graaf Generator: They seem to have disappeared briefly. Two of them (perhaps there are only two) came and sang songs for an hour on the floor of Peel Acres ... (read more[5]). An A-Z of British artists who'd caught Peel's attention at the time, both famous and obscure ("There will be complaints that this is a purely personal and arbitrary list. This is quite true...."). Complete article, together with One Stop Records Top 20 (Captain Beefheart's LP "Striclty Personal" is at number one), available here
1969
Unknown date (extract, reprinted Private Eye, Pseuds Corner, 1969): comparing Pink Floyd to the sound "dying galaxies"
April 5: It would be nice, perhaps, to talk of Principal Edwards Magic Theatre - a large group of gentle people who would seem to represent what is coming in the boundless universe of music. It is not easy to say exactly how many of there are because tonight, or tomorrow, you may be part of Principal Edwards ... (read more)
June 7 (extract; review of Deep Purple's The Book of Taliesyn); This has been around for a while in the import shops - you may have noticed John Vemon Lord's excellent sleeve. All the Harvest sleeves are good, in fact, all being gatefolds or whatever you call them....... The group have done some fine things for Radio One and they excite when they play live - that's why I don't understand where this record went wrong. It is all too restrained somehow......(read more)
Aug 2: "Peace-hunting Plastic Ono Band start a "war"!" Headline covers both Peel's column and Jonathan King's; they have contrasting views on the POB. Peel writes: It is nice to be, as Derek Taylor pointed out last week, a member of the Plastic Ono Band. If you remember, you are too - our first hit record and it is a good feeling. Play it somewhere friendly, and sing along and it does feel right ...JP also praises "The Forest", as he then called them and gives a list of "magic people" (read more)
Oct 4: Buxton, Derbyshire, is 48 miles from Chester, 24 from Chesterfield, 34 from Derby, 35 from Huddersfield, 25 from Manchester, 28 from Sheffield, 24 from Stoke-on-Trent and 159 from London. It seems an unlikely place for a joyful night ... (read more: upper part / lower part)
Oct 18: Anybody who can make their way to Paris should do so before October 24th. On that date starts something called the Actuel Music Festival[2] and this will run for five days. The main reason for going, personally, is the appearance of the righteous Captain Beefheart..... (Also recommends an unknown Bradford group called Penal Reform - who "confess to being influenced by Turkish music and Ornette Coleman" - searches for deleted records and recommends a few new ones, including some forthcoming LPs on Dandelion) (read more)
1970
Jan 3: Family, Graham Bond and Sam Apple Pie at London's Albert Hall. Leaving early because of the weather. Driving alone up the M1 on the snow. Through Bradford and on to Shipley around midnight. Sleeping on the floor and warmth and love and cups of tea. A wedding and a reception. Friendly northern voices and laughter. Driving to Bingley and ... (read more)
May 2: (Describes the Pop Proms week at the Royal Albert Hall, with mentions of many bands as well as "some of the sickening things that go on backstage") The Pop Proms having finished, I hope that Roy Guest and I will be able and willing to try again next year. Musically the week proved really nice with several outstanding performances. The first group on the Monday were Bronco who are very highly rated by such authorities as ...(read more)
May 30: (Reviews the film Let It Be) THE PIG said about half-way through that all the film critics had said nasty things about the film. Even the LP had come as a bit of a disappointment to many people. It was, for me, just about the saddest film I've ever seen and when the four of them suddenly froze on the roof of Apple, it was difficult not to let a small tear creep from the corner of the eye so I didn't bother much ... (read more)
June 13: WRITTEN, once again, at my father's lair in the hills near the Horse Shoe Pass in Wales. It's difficult sitting here to relate at all to London, The sun, which has become a brilliant orange in the last 10 minutes, is just visible through the trees... (Peel visits his father, apologises for "wandering and being introspective" but still mentions Medicine Head's new single and reviews the previous Friday's "all-night gig in Buxton, Derbyshire" (read more)
June 20 (extract): If you can recall the Wednesday "Night Ride" I used to help with, then you'll remember the curious things from the BBC archives that were played. Some of the best are gathered together on BBC Radio Enterprises REC 68M which will be easily as hard to get hold of as the "Top Gear" LP was. It's called "Archive Things" and is quite a laugh-brings back memories of a programme that I still miss a lot.
June 27: They always seem to be "getting themselves together at this cottage." For the past year the resources of the mighty Peel Foundation have been poured into finding such a cottage without any luck at all. My brother has one on the Kent-Sussex border....(Also mentions a pop festival in Bedford and is sceptical of ""free radio " now that the law-and-order freaks" (i.e. the Tories) are in power....If you think that commercial radio meas better radio then forget it...."... (read more)
Sep 12 Despite all rumours to the contrary, the Rolling Stones are not going to record for Dandelion Records....(JP praises Birmingham rock'n'roll record dealer Danny Reddington, recommends Curved Air and Brinsley Schwarz "on the Sunday-Repeated-Wednesday Show" and albums by J.B. Lenoir, Pharaoh Sanders, Caravan and others, including the Stones (read more)
Sep 19 Peel criticises "progressive" music and its followers; "Since 1967 many of the people who were first heard on "Top Gear" have become very popular, very successful and very wealthy. In too many cases their music has become sterile, unimaginative and lack-lustre. ..much of the so-called "progressive" music currently being snapped up by the public here, in Europe and in the U.S., is nothing more than formula music...The intolerance of many of you really makes me very sad...." .(read more)
Sep 26: "What It's Like To Be In A Group When No-One Wants To Know". Each weekday we would walk down Denhall Lane toward the marshes, between the high hedges that marked the boundaries of Hughes Farm, past the white painted gate with red gate posts on which the cows scratched themselves ... (After ruminations about deserted and closed railway lines, JP talks about seeing Van Der Graaf Generator and Family at recent gigs, looks forward to seeing Adrian Henri and Mike Evans in Liverpool, and describes the plight of "the luckless Stackwaddy" (read more)
Oct 10: AN OLD crone once told me that those horn under the sign of Virgo were liable to walk with a limb and that I would die of stomach trouble. At this very moment it is as much as I can do to walk at all, let alone walk with a limb. This morning the Radio... (JP describes seeing Wishbone Ash for the first time and also mentions the financial struggles of Stack Waddy, Forest and Family) (read more)
Oct 31: "Ecology - election promise word?" One of these murky mornings we're going to wake up and find that man is the only animal remaining on the planet. Of course "ecology" is a fashionable word nowadays - Sammy Davis wanted to use it as the name of a record label - and it's a word that is even used in the ...(JP also acquires a hurdy-gurdy and visits Ron Geesin) (read more)
Nov 7: "The cost of playing for free": THE ECONOMICS of the pop industry have always been a mystery to me. On the rare occasions that I've inadvertently tipped over the stone with the edge of my foot and caught a glimpse at the writhing beneath I've seen a world equal in horror to any of those so alarmingly detailed by H.P. Lovecraft ... (read more)
Nov 21: Immediately after breakfast I went next door and sunk 50,000 tons of shipping. The best the Pig could do was 20,000 tons. The machine on which we performed this wanton destruction is in an amusement arcade next to the Wimpy Bar in Margate ...(JP talks about seeing Stray and Little Free Rock, reflects on the low standard of driving on motorways ("The worst offenders seem to be those drivers you just know voted Conservative") and outlines his "Miss Top Gear" contest.("entries are pouring in...at the rate of one or two a week") (read more)
Nov 21: New Singles
Dec 12: "Miss Top Gear Beauty Parade! Who is the fairest of them all?" You've almost certainly read detailed and enthusiastic reviews of the George Harrison triple LP already so it would be foolish of me to duplicate the work of others. However it is worth recording that George's records have retained that indefinable..." Also includes a number of bizarre entries to Peel's competition, including "dreadful photos of sporting events" sent in by "Ian MacMillan of Barnsley" (the poet and presenter of Radio 3's The Verb?) (read more)
1971
1972
References
.
Community content is available under
CC-BY-SA
unless otherwise noted.