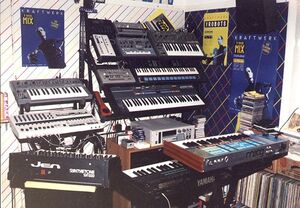 Distorted Waves Of Ohm
are an electronic techno/acid group that eschew live performance in favour of studio-created material: members were Tony Clements and Chris Paynter from Broadstone in Dorset. They were formed in 1993 from Metamorphism, an earlier collaboration, and mainly released 12 inches on their own Eurk label: they refused to sign with a major because
"majors are not interested in decent music, just teeny bop shit. Its all greed as far as they care!"
The band name was chosen because it best described the sound.
[1]
They recorded five tracks for Peel in their own studio and to date the session has never been released. After playing the first track, JP commented,
"It sounds as though our boys were on rare form when they did this."
The band were listening to the first broadcast and took the opportunity to promote their EP
Surrealist Sketch Show
. However, this appears to have been their last release.
Festive Fifty Entries
Sessions
One session, no known commercial release. Complete recording available on Dat 085.
1. Recorded: unknown. First broadcast: 30 June 1995. Repeated: 10 November 1995.
Sketch Plan And Elevation / Snark / The Solution / Split Level Creation / Apparitions
Other Shows Played
External Links
Community content is available under
CC-BY-SA
unless otherwise noted.