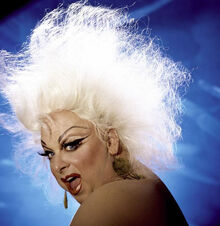 Harris Glenn Milstead, better known by his stage name Divine (October 19, 1945 – March 7, 1988), was an American actor, singer and drag queen. Closely associated with the independent filmmaker John Waters, Divine was a character actor, usually performing female roles in cinematic and theatrical appearances, and adopted a female drag persona for his music career. In 1981, Divine embarked on a career in the disco industry by producing a number of Hi-NRG tracks, most of which were written by Bobby Orlando. He achieved international chart success with hits like "You Think You're a Man", "I'm So Beautiful", and "Walk Like a Man", all of which were performed in drag. Having struggled with obesity throughout his life, he died from cardiomegaly.
Links To Peel
Divine was signed to Proto in the UK, a label that produced many hi-NRG dance music acts in the 80's, that Peel often played, including the first release of Stock, Aitken and Waterman's Agents Aren't Aeroplanes single, who also produced many of Divine's songs.
Divine's 'Walk Like A Man' was played on Top Of The Pops on 09 May 1985 (TOTP), which Peel and Janice Long presented.
The single 'You Think You're A Man', played on Peel's R1 show in June 1984, was co-written by Geoff Deane, former lead singer with Peel session band the Leyton Buzzards [1], and later covered by the Vaselines.[2]
Shows Played
1983
1984
Top Of The Pops
External Links
Community content is available under
CC-BY-SA
unless otherwise noted.