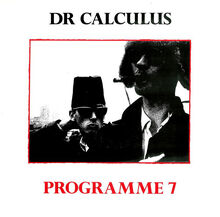 Doctor Calculus (or Dr Calculus) was a recording project established by Stephen Duffy, founder member of Duran Duran and later known as Stephen "Tin Tin" Duffy, and Roger Freeman, formerly of Pigbag. The pair met in 1982 and started to record and release material in late 1984 and early 85 while Duffy was enjoying solo success with his single "Kiss Me". The group released two singles and one album Designer Beatnik in the summer of 1986, which featured prototype chill-out / house tracks which segued together to run non-stop for forty minutes. The album cover features the "Spirit of Ecstasy" ornament as used on Rolls-Royce motor cars. The Dr Calculus project ceased after the first album, with Duffy going on to form alternative folk-rock band The Lilac Time.
Links to Peel
David Cavanagh writes in 'Good Night and Good Riddance' that in January 1985 Dr Calculus' 'Programme 7' single, an amalgamation of electro, Pigbag and New Order's 'Blue Monday', was Peel's favourite record of the time. The mysterious 'Dr Calculus', "who may be one person, or two, or a mysterious robot"[1], was approached by Peel and Walters to record a session, which was shrouded in mystery as all the usual info on producer, engineer, studio, musicians, instruments are given as 'unknown'.
Sessions
One session. No known commercial release.
Recording date unknown. First broadcast 28 January 1985, repeated 20 February 1985 and 20 March 1985.
Honey I'm Home / Programme 7 / Killed By Poetry
(Please correct mistakes and add any missing info)
Other shows played
1984
1985
External links
References
↑ Cavanagh D., Good Night and Good Riddance (2015)