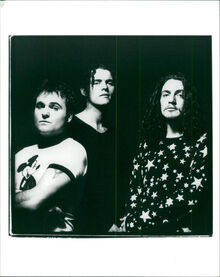 Dodgy are an English rock band formed in Hounslow in 1990. The band rose to prominence during the Britpop era of the 1990s. They are best known for their hits "Staying Out for the Summer", "If You're Thinking of Me", and "Good Enough". The last was their biggest hit reaching No. 4 in the UK Singles Chart. They released their first album in over a decade, Stand Upright in a Cool Place, on Strikeback Records in February 2012. The band were born from the ashes of Purple, a trio from Bromsgrove and Redditch, who had moved to London and was composed of Nigel Clark on bass, Mathew Priest on drums and David Griffiths on guitar. Shortly after their arrival in London in 1988, Frederic Colier joined the band as the bass guitarist, with Clark providing vocals.
Links to Peel
Peel played one of their early singles in 1991, before they released an album or had commercial success during the mid/late 90's. As Britpop became popular, Peel rarely played any of the band's material except when he was presenting Glastonbury, where the group performed. However, Peel did praise the group on his 18 August 1996 show, when they played in the Bosnian town of Tuzla to raise money for artists who were stranded in Bosnia during the war. The band also contributed to the Rock The Kop: The Hillsborough Justice Concert, which Peel compered and was passionate about the cause. An album was released of the concert and Peel played tracks from it including Dodgy's contribution in 1997. During that year, an easy listening cover of Dodgy's Good Enough by Lance Gambit Trio was played on his shows.
Festive Fifty
Sessions
Live
Recorded at Glastonbury: 1997-06-28. Broadcast: 28 June 1997
Good Enough
You've Gotta Look Up
If You're Thinking Of Me
Ain't No Longer Asking
Other Shows Played
1997
04 June 1997: You've Gotta Look Up (v/a CD - You'll Never Walk Alone - The Hillsborough Justice Concert) V2
10 June 1997: Good Enough (v/a CD - You'll Never Walk Alone - The Hillsborough Justice Concert) V2
See Also
External Links
Community content is available under
CC-BY-SA
unless otherwise noted.