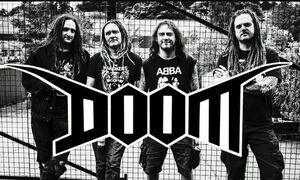 Doom are an English hardcore punk band from Birmingham whose first lineup were together from 1987 to 1990. Despite its short existence, the band is considered pivotal in the rise of crust punk, a punk rock style that fuses extreme metal with anarcho-punk. They recorded for Peaceville Records and are cited as an early precursor to grindcore.
Doom began as The Subverters with Jon Pickering (bass/vocals), Bri Doom (guitar) and Jason Hodges (drums). After Jason was replaced by new drummer Mick Harris the band changed its name to Doom.
This lineup played several concerts in a crossover metal style. Bri and Jon decided this wasn't the direction they wanted the band to move in. Consequently, they left the metal style of music and decided to move toward a Discharge-influenced crust punk-style that Doom became known for. At this time, Pickering dropped bass to concentrate on vocals, and Pete Nash replaced him on bass. Harris also left the band and was replaced by Tony "Stick" Dickens. The band began rehearsing with this line-up in mid 1987.
(Read more on Wikipedia)
Links to Peel
In an interview with the Skinny magazine, published in 2013, drummer Tony "Stick" Dickens, acknowledged the role of Peel in giving the band publicity including getting them to do two sessions for his programme:
"We were gobsmacked when we were asked to do a Peel session …. we were a bunch of blokes on the dole," recalls Stick and "we couldn't afford big fancy studios, so getting paid to record in one of the top studios in the UK was a big thing …. Basically, you got four goes to record a track, so as long as we didn't have a break we could link songs together, he explains and "the two Peel sessions basically formed an album. Got to admit I shed a tear at the news of 'Peelys' death, a great, genuine bloke, still missed" [1]
Sessions
All sessions available on the Double Peel Sessions (1989, album, Strange Fruit)
1. Recorded: 1988-06-19. First Broadcast: 28 June 1988. Repeated: 20 July 1988, 07 September 1988
Symptom Of The Universe/Multinationals / Exploitation / Circles / No Religion / Relief / Sold Out/War Crimes
2. Recorded: 1989-03-07. First Broadcast: 14 March 1989. Repeated: 25 April 1989
Means To An End/A Dream To Come True / Natural Abuse/Days Go By / Life Lock/Bury The Debt / Life In Freedom/Money Drug/Fear Of The Future
Other Shows Played
02 February 1988: Slave To Convention (Album, Compilation: A Vile Peace) Peaceville
09 May 1988: A Dream To Come True (LP - War Crimes - Inhuman Beings) Peaceville
18 May 1988: Stop-Gap (LP - War Crimes - Inhuman Beings) Peaceville
01 June 1988: A Dream To Come True (LP - War Crimes - Inhuman Beings) Peaceville
27 June 1988: Stop-Gap (LP - War Crimes - Inhuman) Peaceville
09 July 1988 (BFBS): Relief (LP - War Crimes - Inhuman Beings) Peaceville

23 July 1988 (BFBS)

: Stop-Gap (LP - War Crimes - Inhuman) Peaceville

22 October 1988 (BFBS)

: Exploitation (LP - War Crimes - Inhuman Beings) Peaceville
1989
16 January 1989: War On Our Doorstep (v/a album - Hiatus (The Peaceville Sampler)) Peaceville
24 January 1989: Diseased (v/a LP - Hiatus (The Peaceville Sampler.)) Peaceville
31 January 1989 (Radio Bremen): Diseased (v/a album - Hiatus (The Peaceville Sampler.)) Peaceville
01 February 1989: Free Yourself (CD - Total Doom) Peaceville

04 February 1989 (BFBS)

: Free Yourself (CD - Total Doom) Peaceville
15 February 1989: War On Our Doorstep (v/a album - Hiatus (The Peaceville Sampler.)) Peaceville
06 March 1989: Life In Freedom (shared LP with

No Security

- Bury The Debt Not The Dead / No Security) Peaceville
10 April 1989: Life In Freedom
11 May 1989: Life In Freedom (shared album with

No Security

- Bury The Debt Not The Dead / No Security) Peaceville
22 May 1989: Diseased (7" - Police Bastard) Discarded
24 May 1989: Circles (7" - Police Bastard) Discarded
06 June 1989 (Radio Bremen): Relief Pt 2 (7" - Police Bastard) Discarded
07 June 1989: Circles (7" - Police Bastard) Discarded

28 June 1989 (BFBS)

: Free Yourself (CD - Total Doom) Peaceville
10 July 1989: Relief (album - Double Peel Sessions) Strange Fruit
11 July 1989: 'Life In Freedom/Money Drug/Fear Of The Future' (LP-Double Peel Sessions) (Strange Fruit)
15 July 1989 (BFBS): 'War On Our Doorstep (shared LP with

No Security

-Bury The Debt Not The Dead/No Security)' (Peaceville)
18 July 1989 (Radio Bremen): Natural Abuse / Days Go By (album - Double Peel Sessions) Strange Fruit
22 July 1989 (BFBS): 'Relief (LP-Double Peel Sessions)' (Strange Fruit)
24 July 1989: Bury The Debt (Not The Dead) (split album with

No Security

- Bury The Debt Not The Dead / No Security) Peaceville
29 July 1989 (BFBS): Relief (album - Double Peel Sessions) Strange Fruit
31 July 1989: Exploitation (LP - Double Peel Sessions) Strange Fruit
05 August 1989 (BFBS): Life In Freedom / Money Drug / Fear Of The Future (CD - Total Doom) Peaceville
31 August 1989: Means To An End / A Dream To Come True (album - Double Peel Sessions) Strange Fruit
1994
29 January 1994: Choice (split 7" EP with

Hiatus

- Lost The Fight) Nabate
19 August 1994: Faith (split album with

Selfish

- Pro-Life Control / Tear Silence Into Pieces) Ecocentric
27 August 1994 (BFBS): Faith (split album with

Selfish

- Pro-Life Control / Tear Silence Into Pieces) Ecocentric
1996
28 July 1996: 'Slave To Convention (LP – War Crimes – Inhuman Beings )' Peaceville
External Links