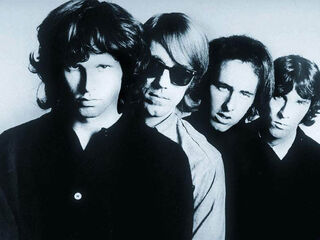 The Doors
were an American rock band formed in 1965 in Los Angeles, California, with vocalist Jim Morrison, keyboardist Ray Manzarek, drummer John Densmore and guitarist Robby Krieger. The band took its name from the title of Aldous Huxley's book
The Doors of Perception
, which itself was a reference to a William Blake quotation: "
If the doors of perception were cleansed every thing would appear to man as it is, infinite."
They were among the most controversial rock acts of the 1960s, due mostly to Morrison's wild, poetic lyrics and charismatic but unpredictable stage persona. After Morrison's death in 1971, the remaining members continued as a trio until finally disbanding in 1973....(Read more at
Wikipedia
.)
Links to Peel
The Doors' eponymous first album was released in the US by Elektra Records in January 1967, together with a single taken from it, "Break On Through (To The Other Side)". The single made little impact nationally but was on the playlist of KMEN in San Bernardino during Peel's final weeks there, and remained in the station's charts after his departure in February. On Radio London, he played tracks from the first LP, which was released by Elektra in the UK at about the same time he renamed his late-night programme the Perfumed Garden. Although the Doors initially lacked the cult status of their Elektra labelmates Love, they achieved much greater commercial success, with their single "Light My Fire" (a Peel "climber" and Fab 40 hit on Radio London, but not in the official UK charts) topping the US Hot 100 and becoming a million-seller in summer 1967, while lead singer Jim Morrison, the group's dominant onstage figure, became a "star".
Peel continued to play their records on Radio One in 1967-68; with their second LP, Strange Days, and a single, "People Are Strange", their fame grew. Unlike Love they were happy to tour extensively and made many TV appearances, eventually visiting Europe in September 1968, when they appeared at London's Roundhouse for two nights on a double bill with Jefferson Airplane. On Top Gear, Peel defended them against attacks from Jonathan King, who described them in his column in Disc as "predictable, derivative and boringly freaky" and "artistically pretentious rubbish"[1]. In contrast to King, Peel was enthusiastic about the band's third LP, Waiting For The Sun and attended (or possibly compered) their Roundhouse concert. Afterwards, when Melody Maker played him a track from the album in the paper's New Blind Date feature, he said he was disappointed with their performance ("I prefer their records. They look very contrived").
He later remarked that he had met Jim Morrison, who impressed him by responding to an Elektra employee who told the singer that he had found a "really groovy driver" with the comment "I don't want a groovy driver, I just want someone who can drive". However in an interview on Partners In Dispute in 1992, Peel also mentioned that he found Morrison as a "sexist twerp" and "a man who is self obsessed and convinced with his own divinity". He also mentioned that he found Morrison's attitude to other people as rather appalling.  Despite the mixed critical reception to their later work, Peel still played the Doors' records on Top Gear until Morrison's death in 1971, and also featured the remaining members' attempts to continue with the group as a trio.
Yet while Morrison's spectacular rise and fall, culminating in a death which some still find mysterious, led to an enduring fan following sometimes bordering on worship, Peel remained sceptical of the "genius" which some found in the singer, a stance which - as with his criticism of Bob Dylan - brought him hate mail. 
In 1991, the DJ gave several plays to the Dub Syndicate track "Stoned Immaculate", which sampled the voice of Morrison.[2]
A film called The Doors: Mr. Mojo Risin' - The Story Of L.A. Woman, about the making of the band's final album with Jim Morrison, was released on DVD in 2011 and shown on BBC4 TV. The film's credits show Peel's brother Alan Ravenscroft as supervising producer for Eagle Rock Productions, who also issued a DVD on the making of the band's first LP in 2008.
Festive Fifty Entries
Sessions
Other Shows Played
1960s
1970s
1980s
2004
Other
Covered
The list below was compiled only from the Cover Versions page of this site and includes later versions of songs earlier covered by the Doors. Please add more information if known.)
Artist | Track | First Known Play
See Also
External Links
Community content is available under
CC-BY-SA
unless otherwise noted.