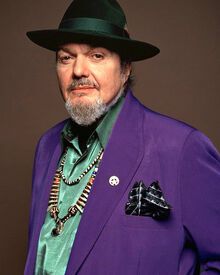 Malcolm John Rebennack (November 20, 1941 – June 6, 2019), better known by his stage name Dr. John, was an American singer and songwriter. His music combined blues, pop, jazz, boogie-woogie and rock and roll. Active as a session musician from the late 1950s until his death, he gained a following in the late 1960s after the release of his album Gris-Gris and his appearance at the Bath Festival of Blues and Progressive Music. He performed a lively, theatrical stage show inspired by medicine shows, Mardi Gras costumes and voodoo ceremonies. Rebennack recorded more than 20 albums and in 1973 produced an American top-10 hit, "Right Place, Wrong Time". The winner of six Grammy Awards, Rebennack was inducted into the Rock and Roll Hall of Fame by singer John Legend in March 2011. In May 2013, Rebennack received an honorary doctorate of fine arts from Tulane University.
Links to Peel
Dr. John gained an underground reputation as "The Night Tripper" with his debut album Gris Gris, which was released in 1968 and reviewed enthusiastically in International Times, not by Peel but by Barry Miles. The album sounded very different from most of the other releases of the time, its New Orleans voodoo atmosphere suited the late '60s fascination with magic and the occult, and Dr. John's growling vocals occasionally sounded like Captain Beefheart - as Miles implies, reviewing Gris Gris alongside Beefheart's Strictly Personal[1] Peel played tracks from the LP, and one of them "Walk On Gilded Splinters", attracted a number of cover versions, including one by Marsha Hunt, which made the UK singles charts in 1969.  Dr. John gradually turned into a more conventional musician who was respected because of his connection with earlier styles of New Orleans rock'n'roll and R&B.
Although Peel also played Dr. John's subsequent records in the late 60's and early 70's, he stopped playing them after the singer was rude to him (possibly when JP interviewed him: [1] for Rockweek in 1974). After a gap of more than 20 years, he decided to play a track by Dr. John which he liked, on his 01 May 1993 show:
"I disliked him so profoundly that I swore a spiteful little oath to myself that I would never play another one of his records as long as I lived – he was truly hateful at times. I am sure he's mellowed since then. I mention all of this as I am now going to break this twenty year oath and play one of his records."
It is not known why Dr John was rude to Peel (perhaps a simple case of 1970s rock star ego, very common at the time, or a consequence of the singer's drug use), but even after 1993, JP rarely played any records by him.
Shows Played
1971
1972
1973
1993
Other
External Links
References
↑ In Margrave Of The Marshes JP recalled "Interviewing Frank Zappa, Canned Heat and Dr. John the Night-Tripper at/in Clympings" (p.403)
.
Community content is available under
CC-BY-SA
unless otherwise noted.