(This page covers both Dr Feelgood and the later career of Wilko Johnson.)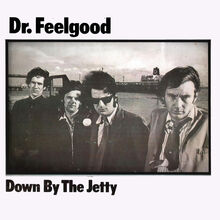 Dr. Feelgood are a British pub rock band formed in 1971. Hailing from Canvey Island, Essex, the group are best known for early singles like "She Does It Right", "Roxette", and "Back in the Night". The group's original distinctively British R&B sound was centred on Wilko Johnson's choppy guitar style. Along with Johnson, the original band line-up included singer Lee Brilleaux and the rhythm section of John B. Sparks, known as "Sparko", on bass guitar and John Martin, known as "The Big Figure", on drums.
Their breakthrough 1976 live album, Stupidity, reached number one in the UK Albums Chart (their only chart-topper).[1] But after the 1977 follow-up Sneakin' Suspicion, Johnson left the group because of conflicts with Lee Brilleaux. He was replaced by John 'Gypie' Mayo. With Mayo, the band was never as popular as with Johnson, but still enjoyed their only Top Ten hit single in 1979, with "Milk and Alcohol".[2] Johnson never achieved any great success outside the band, apart from a brief spell with Ian Dury and The Blockheads from 1980.
(Read more at Wikipedia.)
Links to Peel
Known for the raw energy of their live performances and back-to-basics approach, Dr Feelgood were part of a mid-70s pub rock scene supported by Peel that in some respects paved the way for the emergence of punk.[3] Jake Riviera, the band's former road manager, was a co-founder of Stiff Records, whose roster came to include Peel session artists including Elvis Costello, Damned, Ian Dury, Lene Lovich, Madness, Pogues and Wreckless Eric, as well as a later incarnation of the Feelgoods themselves. Lee Brilleaux had provided a loan to help launch the label in 1976.[4]
The original Feelgoods lineup did one Peel session, in 1975, having already recorded three for Bob Harris, with a further two after the departure of Johnson in April 1977. Peel also included 'Sneakin' Suspicion' in his self-selected 1977 Festive Fifty. Johnson's next band, the Solid Senders, did one Peel session, in 1978.
In 2013, Wilko Johnson performed solo at the opening of John Peel Centre in Stowmarket.[5] After recalling trips to an all-night filling station with a coffee machine to listen to the Perfumed Garden, he paid tribute to Peel:
"I can't think of another example of somebody who is a disc jockey rather than a musician who has actually changed the face of music, because of the way that he influenced people's taste."[6]
Festive Fifty Entries
Sessions
Three Peel sessions, all available on BBC Sessions 1973-1978 (Grand).
1. Recorded 1975-01-21. First broadcast 10 February 1975. Repeated 19 May 1977
I Don't Mind / I'm A Hog For You / Keep It Out Of Sight / Route 66
2.Recorded 1977-09-20. First broadcast 10 October 1977. Repeated
You Upset Me Baby / She's A Wind Up / Baby Jane / 99.5
3.Recorded 1978-09-05. First broadcast 18 September 1978. Repeated 12 October 1978.
Nightime / Take A Tip / Doctor / Sugar Shaker
Wilko Johnson / Solid Senders
One session. No known commercial release.
1. Recorded 1978-09-19. First broadcast 28 September 1978. Repeat
Highway 61 / Everybody's Carrying A Gun / All Right / Blazing Fountains / Slipping And Sliding
Other Shows Played
(The list below was compiled only from the database of this site and is incomplete due to the shortage of available Peel show tracklistings from earlier years. Please add more information if known.)
1975
1976
1977
1978
1979
1980s and after
07 April 1980: Paradise (LP - Sneakin' Suspicion) United Artists
09 December 1996 (John Peel's Classic Sessions): Riot In Cell Block #9 (Non-Peel session)
21 August 2003: John plugs an event called 'Music By The Lake', happening on the Bank Holiday Monday, 25th August, in the town of Needham Market, near Stowmarket. Among live acts appearing are Dr Feelgood. JP: "That's almost certainly where we'll be going on Monday."
Wilko Johnson / Solid Senders
See Also
External Links
Community content is available under
CC-BY-SA
unless otherwise noted.